This article will inform you of how to dispose of your rubbish in halls of residence.
Types of bins in halls of residence
'No food or liquids' bins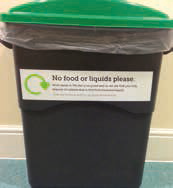 - For recycling
- Use clear plastic sacks/ bin bags provided, never black bin liners
- No food or liquids (rinse packaging and tins)
- Empty this bin into the green external bins
The waste that goes in this bin is separated after collection, most of it will be recycled; this is why food or liquids can't go in this bin. A bit of food residue in packaging is ok - any food/liquid residue should be only small amounts that won't cover other items in the bin. For example, crumbs are fine, some salad dressing residue in packaging is fine, used sauce sachets are fine.
For unopened food that has gone off, empty food before putting packaging in this bin.
Food caddies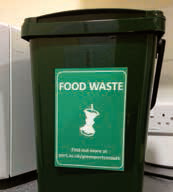 - In kitchens
- For any uneaten food, tea bags, food scraps etc.(including bones and fish).
- Please do NOT put any kind of packaging in these caddies
- Empty this bin into the red external bins

Food waste doesn't include food packaging
Where to put other waste
Battery bins
These can be found in reception areas. Batteries contain hazardous metals such as lead, mercury, cadmium, zinc, manganese and lithium. Disposing of batteries in the general waste bin is illegal as they are a hazardous waste product, which can harm people and the environment if not disposed of correctly.
Electrical waste
Speak to your hall reception staff to dispose of electrical and electronic equipment. Items include:
Small appliances, i.e. kettles, irons, hairdryers, toasters, coffee machines, electric toothbrushes.
IT and telecommunications equipment, i.e. (PCs, laptops, monitors, keyboards, printers.
Consumer equipment i.e. radios, TVs, DVD players
Electric toys, sport and leisure equipment, i.e. electric trains, game consoles, cycle
computers
Any items labelled with the image on the left
It is a legal requirement that you do not place these items into general or recycling waste bins.
Broken items
In order to avoid any injuries we'd be grateful if any broken, sharp objects could be placed in the external metal bins rather than kitchen bins. Contact your Hall reception if needed.
Item specific information
For more information on where to put specific items of waste, see this article.
Third party Halls (Unite, Catherine House)
Please see the respective third party websites.