Turning ideas into action
How the Student StartUp Team can support you
Our student entrepreneurs are collaborative, innovative and ambitious forward thinkers.
If you're looking to develop entrepreneurial skills, get startup advice or build a business, there's not better place to do it than in the UK's most entrepreneurial city 2020 (Instant Offices). And we'll help you while you're at university and up to 5 years after you graduate.
We're here to help you get your idea off the ground or take your existing startup to the next level. We offer expert advice, workshops, co-working space, networking opportunities and lots of useful resources. We're here to help at no cost to you and no loss of ownership; your idea is your idea.
We'll support you to create the next big thing, help others, or support yourself.
Getting started
If you already have an idea your first step is to discuss it with the team.  We run weekly bookable appointments which can take place face to face or by video chat. To speak to a member of the team you can book an 'Enterprise Advice' slot on the appointment tab of MyCareer.
If you can't make the times on MyCareer, you can email us at studentstartup@port.ac.uk to make alternative arrangements.
Enterprise clinics
Wednesday 2.00pm-4.00pm
Friday 9.30am-11.30am
In person or video chat
Book an Enterprise appointment on MyCareer
Alternatively email studentstartup@port.ac.uk
Self-employment placements
You can take on a self-employed placement year (SEP) on most of our undergraduate courses. You'll do your placement between your second and third years of study, replacing the traditional placement year in industry with starting and running a business of your own. Your placement will support and develop your enterprise skills while you start and run your business or social enterprise.
Find out more about your self-employment placement options by visiting our enterprise clinic. Your Faculty's placement office can also give you advice, support and information on doing a self-employed placement year.
The Enterprise Programme
It's education, but not as we know it
The Enterprise Programme will provide you with the skills, confidence and competencies to help you become a more enterprising individual that knows how to make things happen.
Whether your goal is to develop an enterprising mindset and skills, think in a more entrepreneurial way, become self-employed, be the boss, or start a social movement, this programme will help you to start that journey.
Interested in getting involved?
Sessions will be practical, engaging and nothing like the classroom. On the journey you'll be engaging with real people, successful entrepreneurs and university staff all passionate and eager to help you become an enterprise success. You'll also get involved in:
practical training and experience around telling the story of your ideas

learn how to collaborate, develop resilience and how to get started

engage in peer sessions
When does it start?
This year's programme has now ended, but for more information visit the Enterprise Programme website.
Entrepreneurs in Residence
Our Entrepreneurs in Residence can help you develop your business idea while you study with us and after you graduate.
They're experienced business professionals who understand the challenges of starting a new business and have partnered with the University to help you build your network, and plan and market your startup. The programme is delivered through group workshops and 1-to-1 drop-in clinics. You can also attend the speaking events our entrepreneurs take part in throughout the academic year.
The entrepreneurs can advise you on areas including:
Developing entrepreneurial skills

Exploring business ideas

Providing business startup advice

Developing business plans

Advising on types of funding

Business strategy

Advising on the commercialisation of your research

Supporting academic research

Accessing business networks
Get to know our Entrepreneurs in Residence and keep an eye out for their events.
Innovation Connect
Innovation Connect offers business support, guidance and shared office space across the city. It can also introduce you to new and exciting local companies and startups and provide access to business networks, such as the Female Entrepreneurs Network.
Discover more about Innovation Connect and how it can provide the office space and support you need to build your business.
Accelerating Women's Enterprise
Accelerating Women's Enterprise (AWE) was a project that combined research with training and mentoring for female entrepreneurs. Although the project has now ended, you can access the AWE legacy toolkit via the website, which is collection of resources created during the lifetime of the programme to support women in their business start-up journey.
Entrepreneurs Society
If you're interested in networking with like-minded students, listening to business owners' experiences, or even starting a venture of your own - come along to the UOP Entrepreneurs Society 
If you're a student looking to get started with the Society, email us at entrepreneurs@upsu.net
Enactus - 'Turning Interest into Action'
Enactus Portsmouth is a non-profit student-led organisation, within the University of Portsmouth and part of the wider community of Enactus UK. We aim to make a difference within the local community and wider society, by setting up social enterprises which tackle issues in and around Portsmouth.
We identify issues which need tackling and carry out assessments to find solutions to these issues.

We build strong relationships with our communities and partnerships to ensure we tackle issues to the best of our abilities.

We work closely with the University of Portsmouth, providing an opportunity to all and making sure student views are heard
View videos for more information here:
​https://enactusuk.org/recruitment-materials.
Please register here if you are interested: http:// www.enactusuk.org/join
More about our startup services
Events and opportunities
Explore our workshops to develop your startup idea and take part in Route to Startup, Development, or Social Startup events.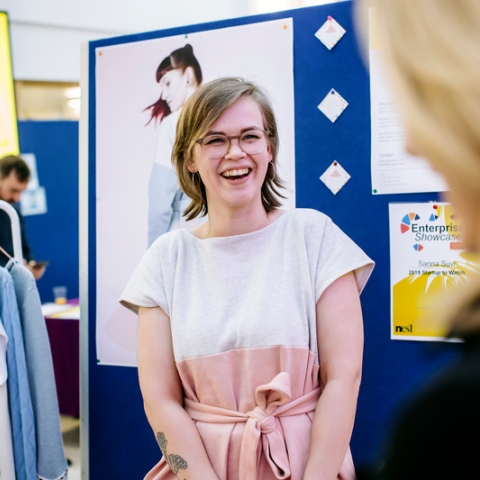 Read more
Events
Discover the upcoming events in our calendar – from public lectures, performances and exhibitions, to conferences, seminars and open days.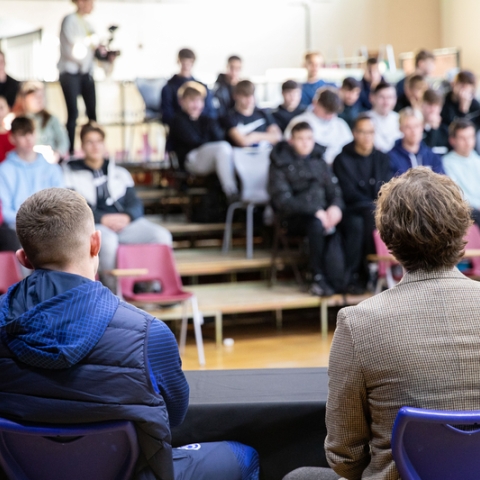 View upcoming events
Entrepreneurs in Residence
Meet our entrepreneurs and find out what support and business start-up advice they offer our students, alumni and staff to launch or grow their businesses.
Read more