Confidential support and advice
Learn more about the help available from the Student Wellbeing Service.
Our service provides free mental health, wellbeing and counselling support. We work in partnership with you to fulfil your academic potential and have a meaningful university experience. 
We offer one-to-one support like daily advice sessions and counselling, resources and guides for help with different issues, and workshops, courses, events and support groups to connect with others.
Contact the Student Wellbeing Service
Access support and guidance from our friendly team of wellbeing advisers, counsellors and mental health advisers:
Or you can contact us via:
The Bateson Centre, The Mary Rose St, Portsmouth, PO1 2BL
Worried about a student? Whether you're a friend, member of University staff, family member or medical professional you can raise a concern so our service can help.
Get support - speak with a friendly Wellbeing Practitioner
Come in for an in-person appointment, or you can request a video or phone meeting if you prefer.  If meeting by Zoom or phone, make sure you have a private space where you can speak confidentially.
Advice sessions
We offer brief meetings of about 20 minutes, available daily. They are bookable on the day by telephone on +44 (0)23 9284 3466, on a first-come-first-served basis. Let the administrator know if you are in need of urgent crisis support, as it may be more appropriate to contact emergency services. 
One-to-one support
To register for one-to-one help from the University's Student Wellbeing Service:
Provide your name, student ID, contact details and preferences, and availability in the short registration form below.
We will then send you a secure email link to a confidential online Wellbeing First Steps form. This allows you to tell us a bit more about yourself and about the issues worrying you, so you don't have to wait until we can offer you a full appointment.
The questions on the form help you think things through, and the process of filling it in is designed to be helpful in itself. 
You will hear back from us the next working day after you submit the First Steps.
Terms of service for using the Student Wellbeing Service
By registering with the Student Wellbeing Service, you agree to our terms and conditions. Please read our privacy and consent information which explains our confidentiality system and how your information is kept secure.
Support in a Crisis
Sometimes challenges with your mental health and wellbeing may lead to thoughts of self-harm or suicide and it's important that you know you are not alone and can access support.
If you are worried about this, or any issues relating to self-harm or suicide please refer to Support in a Crisis.
Welcome to the Student Wellbeing Service
Want to know how about the support we offer at the University of Portsmouth? Hear from our team at the Student Wellbeing service.
As a student at the University of Portsmouth, we want you to fulfil your potential and have a life-changing student experience.
The Student Wellbeing Service is the hub for learning, adviceand support for your emotional wellbeing and mental health.
If you are new to university life, then you may be facing a number of life challenges.
Transition from home to a new life, financial independence, new friendships and relationships, living independently, and of course, new academic challenges and expectations.
For all students, when you're facing challenges, it is likely you will find yourself feeling stressed, worried, unhappy or anxious at times.
This does not mean there is something wrong with you. Learning to cope with these challenges constructively provides opportunities for growth and personal development.
The knowledge and tools you will develop are life skills that you can take forward and use long after graduation.
But if you do start to struggle at any point, please do come and see us straight away.
The Student Wellbeing Service is a team of practitioners with a broad range of experience, expertise and skills.
We have mental health advisors, counsellors and wellbeing advisors who offer 1-to-1 support.
You can come in and see us for these or you can book a phone or video call instead.
For more detailed information about everything that we provide and how to access the service, please visit our website.
And remember, if you think you need support, please come and see us.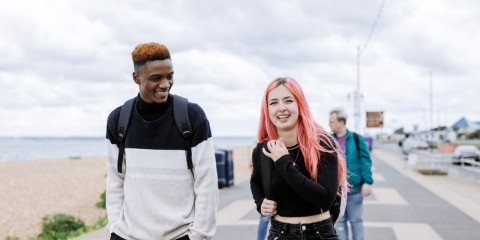 Wellbeing resources and other support
Explore expert advice recommended by our Student Wellbeing Service, including mental health services and charities, and other resources and guides.
Access help