Stand out from the crowd
Tips and resources for creating an alternative CV
In most cases a standard two page written CV is what an employer will expect, but there are times where presenting your CV in an alternative format can help you stand out from the crowd. If carried out effectively, using an alternative format can show off your creative talents and get you noticed within your desired industry. 
When thinking of using an alternative CV it is important to consider whether it is suitable for the type of role you are applying for. You will also need to consider which format to use for your alternative CV that creates the most impact. Alternative CV's can be particularly effective when using a speculative approach to your job search to help gain an employer's attention.
Before creating an alternative CV it is important that you feel confident in your CV writing abilities first. Once you can sell your strengths and skills on paper, you are in a good position to apply this in a more creative way.
Portfolio CVs
After the standard CV, the Portfolio or 'Taster' CV is arguably the second most common CV type used. You will often be expected to present a Portfolio or Taster CV when seeking work within design and creative industries. A Portfolio CV follows the same format of a standard CV (one or two sides of A4 selling your key skills and achievements) but with more visual and design elements. Adding images of your work to your CV and/or adding a design to your document is a couple of the ways this can be achieved. These visuals provide a further opportunity to attract employers and direct them towards one or two examples of your work before viewing your online portfolio (a link for which should always be included within your CV).
For more information on how to go about creating your portfolio please refer to Prospect's guide on putting together a creative portfolio.
Video CVs 
Video CVs offer another great way to promote your personal brand and can help you to stand out amongst the competition. 
The video format whilst not a direct replacement for your written CV can be used to attract an employer,  particularly within creative industries and for those with a large customer focus such as sales, media and marketing. 
 
Check that you have full access to your video once it is uploaded and ensure your work can't be edited or tampered with by others.
Using video to market yourself is not just limited to creating content that would usually appear in your full CV and there are a range of other ways you can incorporate evidence of key skills and achievements alongside your standard CV. Professional networking sites such as LinkedIn are a great example of where you may decide to use video within your profile to help promote examples of your work or demonstrate your creativity. You may also choose to create short videos offering tips and advice or based around a particular theme, for example an insight into your voluntary or work experience. The following article on How to Use LinkedIn Video to Boost Engagement provides more information on how to do this, along with some examples.
Some other suggested places to go for information and guidance in this area are listed below:
You may also find it helpful to refer to some examples of video CVs for some inspiration and to see the different approaches individuals have taken. The following have attracted a lot of positive attention for their unique approaches to their video CVs: 
Interactive CVs
As the name suggests, Interactive CVs actively engage your audience when accessing your material and encourage some form of reader participation. Presenting your information in this way not only helps your information to really stand out but it also provides you with an excellent opportunity to demonstrate your creativity along with your technical abilities.
There are a range of interactive elements you can use for your CV and what you choose should consider and reflect the type of industry you are looking to work in. For example, if you are looking for a computing role within the gaming industry you may wish to have a games-based format to your CV which encourages the reader to 'play' and use computer controls to access different sections of your content.  A particularly well-known example of this type was created by Robby Leonardi who has created a character that you control to lead you through different areas of his CV. 
For other industries it may be more appropriate to use other interactive features such as Nick Jones' use of rotation in his CV which provides an effective and alternative way to introduce his abilities as a Web Designer.
A few other stand-out examples have been listed below: 
The UK DOMAIN has some particularly helpful guidance on creating interactive CVs along with some examples within their article: 'Stand out from the crowd with an interactive CV.'  As well as examples the article explains how these have successfully managed to make a positive impression. 
Instagram CVs
Instagram is increasingly being used as a tool for job searching, and as such, an Instagram CV (IGCV) could be an effective way to showcase your personal brand, and get you noticed by graduate employers within certain sectors. You might want to create an Instagram account that is separate from your personal one for your IGCV and job hunting activities.
As with all types of creative CV, it is important to strike a balance between the aesthetics and the content on an IGCV - you want it to look visually appealing, but also demonstrate your skills and experience in an effective way. Specifically with an IGCV, it is worth bearing in mind that ideally your content will need to span 9-12 squares, and will be 'broken up', so think about how this might look on your grid when designing it (i.e. try to avoid having text that is split across two squares). 
Once you have designed your IGCV, use an app such as 9Cut Insta, 9Square or Photo Split. These will automatically break down your CV into squares and tell you in which order to upload them to your Instagram profile.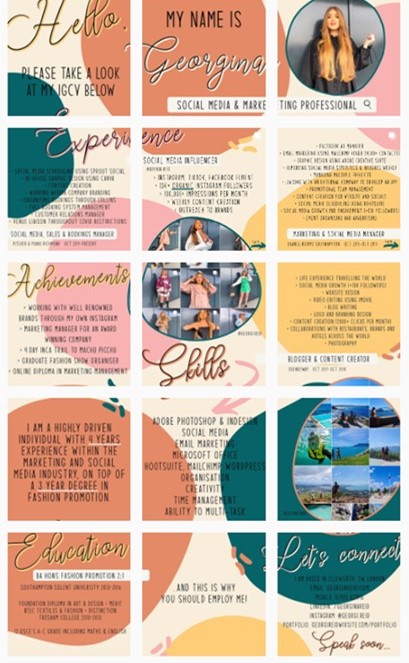 The above are just some examples of how you can make a strong impression and get noticed with an alternative CV. It is always worth researching an employer first to see whether this is likely to be an effective approach for your desired industry or for an individual company. For example, creative approaches are best avoided in some career areas such as accountancy and law. Similarly, official graduate schemes which have a much more defined recruitment process are also not the best to use these more creative methods. Alternative CV's of this nature are therefore best suited towards more immediate job opportunities and can be particularly powerful as part of a speculative approach to your job search.