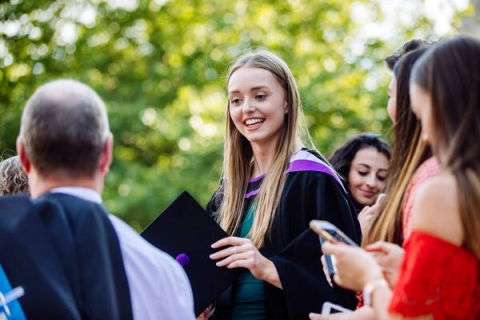 The past few weeks have been very busy at the University, with everyone coming together to recognise students' achievements at Graduation.
The Class of 2021 ceremonies took place both virtually and in person with their friends and family at Portsmouth Guildhall - with Covid safety measures in place. Also taking part were our Class of 2020 graduates who've waited a year to celebrate their achievements. 
Here are some of the highlights from our students and their graduation ceremonies:
Three's not a crowd: first-class triplets graduate together
Triplet brothers who have followed almost identical academic paths graduated together from the University of Portsmouth with first-class Geography degrees.
Meet our 2021 nursing graduates
Three nursing graduates tell us about their journeys, motivations and the roles they've secured in the NHS.
On parade: first group of soldiers graduate with flying colours
The 24-strong group achieved degrees in Business Leadership and Management as part of the national apprenticeships scheme, with an amazing 19 first-class honours degrees being awarded to the soldiers.
Degree apprentice secures new role after working for COVID-19 vaccination hub
Degree apprenticeship graduate Erin James is already reaping the rewards of working whilst studying having gained invaluable skills, experience and a new role.
Portsmouth graduate's cyber security platform sees success
A Class of 2021 computing graduate set up a free cyber security training platform in his summer holidays, which now has 600,000 users globally and 19 employees.