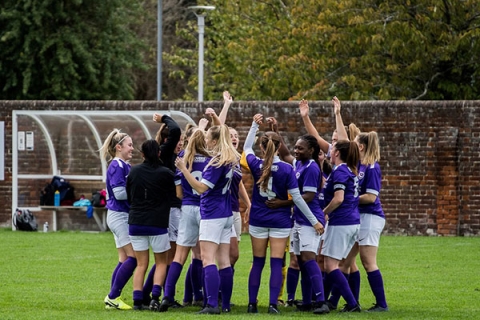 Seven awards and 4 commendations have been awarded to University of Portsmouth students and staff in this year's Vice-Chancellor's Awards for Excellence.
Now in its third year, the 2020 awards highlighted a range of achievements including bringing science to life for children with visual impairments, developing business ideas to solve climate change, and saving the life of a student who fell ill with meningitis.
Their achievements were due to be celebrated at an awards event, but with the closure of the campus due to coronavirus it has been postponed to a more suitable time in the future.
Vice-Chancellor Professor Graham Galbraith said: "This year's awards recognise impressive and inspirational individuals and teams who tackle real-world problems, engage the public, and improve people's lives in our city and across the globe.

"Due to the ongoing Covid-19 crisis we're unable to celebrate their success in person. However, it's important we highlight their achievements now and we're determined to host an awards celebration for them in the future - whether it be a face to face or virtual event - to give them the recognition they deserve.

"We have remarkable people at our University, and I feel great pleasure and pride that we can shine a light on their achievements with the Vice-Chancellor's Awards for Excellence."
Winners
Mohammad Alatoum
Student, BSc Software Engineering, Faculty of Technology 
Nominator's summary: Mohammad organised the biggest student social entrepreneurship competition to take place at the University. He was selected as a Campus Director to host  the Hult Prize, a global program powered by the United Nations, in our University. Over 103 students participated, and came up with profitable business ideas that contribute to solving a climate change issue. They were trained in multiple workshops by Google and the winning team represented Portsmouth in the semi-finals in London.
Mohammad is also the Vice-President of the Entrepreneurs Society in which he continuously works with our students to come up with business ideas and turn them into effective profitable startups while they are studying.
Dr Nic Bonne
Institute of Cosmology and Gravitation, Faculty of Technology
Nominator's summary: Nic has devoted his career to engaging young people with physics, particularly those with visual impairments. Since 2016 he has led the award-winning Tactile Universe project, taking research from the Institute of Cosmology and Gravitation and making it accessible to people with vision impairments.
As a blind astronomer himself, he is an inspiring and relatable role model for the children he works with. Nic has gone above and beyond to ensure the success of the Tactile Universe, taking over the management of a large public engagement grant while a colleague was on maternity leave. He has travelled the country training others to use the Tactile Universe resources, and established himself as a leading authority in accessible physics outreach.
Louisa Burton
Accounting and Financial Management, Faculty of Business and Law
Nominator's summary: Louisa has transformed a pre-existing programme for students of accounting to work with local charities. Through energy, creativity and doggedness she has more than doubled the number of students involved and tripled the number of charities. At the same time, she has created accounting and tax advisory clinics for individuals, small businesses and entrepreneurs, all delivered by students. These initiatives have been developed in liaison with Portsmouth City Council and take place at HIVE Portsmouth.
This initiative fits very well with the University's values and strategic objectives. Not least in providing students with genuinely meaningful life-changing experiences that considerably enhance their employability skills by practising communication and teamwork, as well as helping students develop a professional demeanour in a work environment.  
Vikas Kooneti
Student, BEng (Hons) Petroleum Engineering, Faculty of Technology
Nominator's summary:  In a world with ongoing concern about sustainability and energy efficiency, we're lucky to have students like Vikas who are creating, sharing and applying knowledge to make a difference to society. Throughout his tenure, Vikas has led the Society of Petroleum Engineers (SPE) to some very successful outcomes.
Winning SPE Best Performing Student Chapter and the Students' Union Outstanding Society Achievement of the year, are both recognition for his energy and enthusiasm for ensuring his fellow classmates have opportunities to engage with their subject area outside of the classroom. Having lived in India, Germany and here in the UK he has brought these lived experiences to Portsmouth and shared them through collaborating with staff and students across the institution. 
Anna Vaernes
University of Portsmouth Global
Nominator's summary: Anna has been an integral part in the University's engagement with Hampshire Constabulary to tackle students' experiences of hate crime, discrimination and intolerance. Anna has led the way in this piece of work which has resulted in the university signing up to become a Third Party Reporting Centre for hate crime.
This work has been pushed by Anna's inspirational passion to support international students and address issues they may face, refusing to turn a blind eye to the harms some students experience. Anna's initiative in this area has resulted in training being provided for the office even before this became part of a wider university scheme, purely motivated by a commitment to improving the experiences of students.
Charlie Watts
School of Film Media and Communication, Faculty of Creative and Cultural Industries (CCI)
Nominator's summary: CCI TV is an important part of the University's civic engagement. Led for many years by Charlie Watts, CCI TV's engagements include filming graduations, the city's annual Remembrance ceremony and one-off events including the general election in December 2019. At the heart of the project is a fantastic partnership between the academic and technical teams, who together support our students to work in real-world, real-time live and recorded broadcast events.
The students' achievements are of the highest possible standard and they consistently represent the Faculty and the University at its very best. This can be seen each Saturday at Fratton Park where, trained and supported by the CCI TV team, our students undertake the live screen filming of all Portsmouth Football Club matches.
University of Portsmouth Women's Football Club
Nominator's summary: The 2019/20 season has been an excellent one. The 1st team have consistently been our top performing sports team, and our Women's 2nd team, have recently gone a season unbeaten and have been promoted to 2A, regularly playing against 1st teams of other universities and holding their own. They also developed their first ever competitive Women's Futsal team.
Off the pitch, these ladies are constantly breaking barriers through volunteering: making lunches for the homeless, walking rescue dogs with the RSPCA, packing shoeboxes for children with the Samaritans, and leading activity sessions at the local Regency care home. Their championing of equality in sport was also key in establishing a Women's Football side in the annual Staff vs Students Charity Match.
Commendations
Raben Aytas, Jamelia Brown, Theodore Entwistle, Georgia Olley, Jessica Ware
BSc (Hons) Pharmacology, Faculty of Science and Health
BA (Hons) Journalism, Faculty of Creative and Cultural Industries
BA (Hons) Politics, Faculty of Humanities and Social Sciences
BA (Hons) Journalism, Faculty of Creative and Cultural Industries
BSc (Hons) Biomedical Science, Faculty of Science and Health
Nominator's summary: The quick thinking of a group of students who share a flat in Chaucer House Unite Halls resulted in fellow flatmate Ben de Souza receiving urgent medical attention for meningitis. The prompt actions were commented on by the specialist doctors as being the difference between the student making a recovery or losing his life to the infection. They showed true compassion and awareness towards each other. What they did took incredible bravery and courage.
Bobby Mehta
University of Portsmouth Global

Nominator's summary: Bobby is everywhere as an ambassador for the University. This was particularly evident in his work forging relations with the Bangladeshi community. Having linked up with key Bangladeshi businessmen (in the creation of the Portsmouth Bangladesh Business Association), Portsmouth City Council and University colleagues, a Trade Mission to Bangladesh was organised in November as an innovative way to build a solid basis for future success.
A large delegation visited Bangladesh for a week to help generate economic growth for both Portsmouth and Sylhet in Bangladesh, and to reinforce the University's international activities in South Asia as part of the University's Global Engagement Strategy. This was also a mission to help others and create mutually beneficial relationships. Bobby also empowers his team to think about how to give back to the local community through volunteering and fundraising activities.
Dr Marta Roldo
School of Pharmacy and Biomedical Sciences, Faculty of Science and Health
Nominator's summary: Marta Roldo has ensured students can access an overseas mobility experience through Erasmus funding, as well as pursuing the "internationalisation at home" agenda through the introduction of virtual exchanges with European partners. We know funding is a barrier for our students in taking up an overseas mobility experience and Marta has put tremendous effort into forging partnerships. It is this positivity and determination which has resulted in 20% more students taking a mobility experience over a 2 year period.
Ben Rudge
Student, BSc (Hons) Cyber Security and Forensic Computing, Faculty of Technology

Nominator's summary: As president of the Self-Defence Society, Ben runs five self-defence classes a week to improve students' ability to protect themselves. However, he went beyond this role by recognising students' concern for safety at the start of the academic year after various crime-related incidents took place in the local area. Ben then created two-hour self-defence workshops for student societies and our University's residence services.
Ben has not only improved awareness of safety among many students but has also created an open dialogue about safety in the student community.