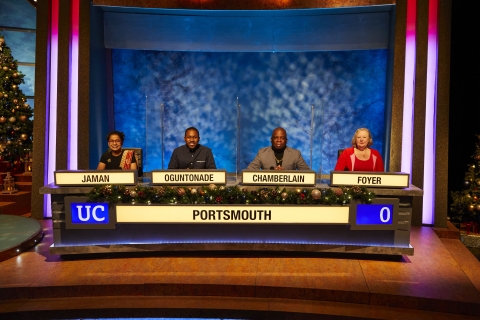 A team of Portsmouth alumni are representing the University on the Christmas special of University Challenge.
Each year nearly 3 million people watch the special series of Christmas University Challenge on BBC2, where teams of graduates from UK universities face stern quizmaster and renowned broadcaster Jeremy Paxman.
The programme airs at 8.30pm on Monday 27 December on BBC2 when our alumni battle against Birkbeck, University of London.
Meet the University of Portsmouth team
The Portsmouth team is made up of four distinguished graduates from the University:
Current president of the Institute of Mathematics, Nira has two mathematical doctorates and is listed among the Top 100 Most Influential Black Person in the UK by the PowerList 2022. He has over 25 years of experience with writing models and algorithms that solve complex industrial problems within industries like defence, aerospace, automotive and energy. In 2018, Nira was named the World's Most Interesting Mathematician.
Presenter of The Great House Giveaway on Channel Four, Tayo studied economics at Portsmouth, and has since become a property expert and mortgage broker. With his wife he set up BrickzWithTipz a property blogging platform designed to give advice and expertise to those needing help in the world of property. The site has helped over 50,000 people.
Currently a Professor of Plant Sciences, University of Birmingham, Christine is an expert in plant metabolism and physiology. She has previously advised the Government on agriculture and the economy, and is the President of the Association of Applied Biologists.
Mental health advocate, national policy advisor and social entrepreneur, Poppy is the CEO of the City Mental Health Alliance. She was instrumental in the creation of the NHS's Every Mind Matters platform and in 2018, she was awarded an OBE in recognition of her services to people with mental health issues.
Tayo Oguntonade said: "Appearing on the Christmas edition of University Challenge was a wonderful, if slightly scary experience. I was pleased to represent my university as a proud alumnus on such an iconic TV programme. The whole team had a great time, I've made new friends and I hope all of us showed students studying at Portsmouth, and those who have graduated, where your education and ambition can take you."