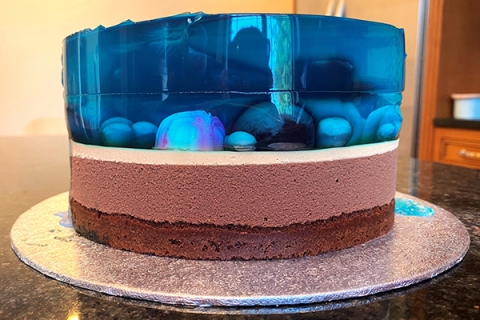 This year's Festival of Doctoral Research, held on Thursday 7 July 2022, showcased the innovative research of postgraduate research (PGR) students from across the University and saw the welcome return of an in-person element to the University's annual celebration of all-things Doctoral and PGR.
The festival – which was live-streamed for those who wished to join virtually – received over 150 guests throughout the day, with 97 visitors to the in-person event held in the Eldon Building and 58 people  joining the fun online.
The all-day event featured talks and presentations from over 20 research students from across the University, as well as panel discussions and some inspiring and imaginative entries to five separate DocFest competitions, including the popular 'Bake your Thesis' competition.
Brooke Wain, PhD student in Biological Sciences, said: "Thank you for such a brilliant day. You could tell there was a lot of thought and effort that was put into making the day smooth running and a success."

Dr Darren Van Laar, Director of the Graduate School, said: "The Festival continued the excellent track record of previous DocFests in providing a series of interesting, thought-provoking and even challenging talks from our very own Postgraduate Research students.

"This year's Festival was a hybrid one, with both presenters and attendees being partly online and partly face-to-face. Perhaps one symptom of our re-emergence from Covid has been that this year's Doctoral Festival organising committee have been overwhelmed by interest in the DocFest, both by people wanting to attend and from potential contributors.

"We had the privilege to judge and award prizes for five competitions: including the 3-minute thesis and ever popular bake-your-thesis competitions.

"The Festival was a fantastic celebration and showcase of how our research students continue to make a valuable contribution to the research and research culture of the University."
Details of the competitions and winners can be found below.
Bake Your Thesis
Doctoral Students were invited to bake a representation of their research.
1st (£100) – Imogen deAntiquis Spence
2nd (£50) – Emily Price
Imogen deAntiquis Spence's baked representation of 'Antimicrobial Resistance Genes Found on Atlantic Mackerel in the Wild and in Commercial Conditions' took first prize with Emily Price's 'Health Conscious Crustaceans' taking second.
Research Image competition
Doctoral Students were invited to submit a single image which should inform, engage and intrigue a non-specialist academic audience and offer a visual perspective on their current postgraduate research.
1st (£100) – Rachael Odunmbaku
2nd (£50) – Brooke Wain
Rachael Odunmbaku's Urinary Tract Infection image took first prize in the Image Competition with Brooke Wain's representation of plastic pollution taking second.
Tweet Your Thesis
Research students were challenged to Tweet their Thesis and summarise their research, and why it's important, in 280 characters or fewer!
1st (£100) – Ajibola Oyebamiji 
2nd (£50) – Brooke Wain
3 Minute Thesis®
3 minute thesis® is an academic competition that challenges postgraduate researchers to use their very best communication skills to enthuse a non-specialist audience about their work in only 3 minutes and using just one static PowerPoint slide.
1st (£150) – Manita Srisawat
2nd (£100) – Louisa Burton
3rd (£50) – Erjon Cibaku
Research Poster competition
1st (£150) – Alexine Clarke
2nd (£100) – Keira White