Moodle, at the the University of Portsmouth, is accessed by using the following link: http://moodle.port.ac.uk
Connection issues
If you cannot access the University's Moodle site please check whether you can access other websites: it could be that your internet connection is not working. If you can access other websites but not Moodle it might be that the Moodle service is unavailable either for planned maintenance (which will have been publicised) or because of an unexpected outage. In either case, please refer to the IS Service Status page for the latest updates.
Login issues
You should be able to login to Moodle using your University of Portsmouth login details.
If you enter your login details incorrectly you will be notified of an Invalid login. In this case please check the details that you entered.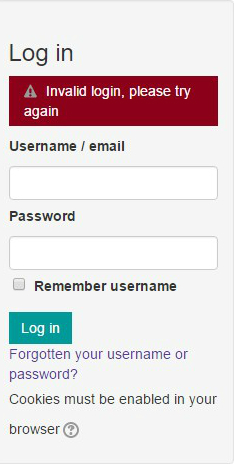 Your Moodle username and password should be the same as the one used for MyPort. For most students your username will be of the form UPXXXXXX. Username is not case sensitive but your password is.
If your services have previously been suspended (but are now restored) please contact elearn@port.ac.uk to ensure the restriction has been lifted. Please note it may take 24 hours for your full services to be restored.
If you have forgotten your login details please contact the IS Service Desk at:
E: servicedesk@port.ac.uk
T: +44(0)23 9284 7777
Graduated?
If you have graduated and your access has been removed please contact your old department stating what you require access to and why. Your department will then aim to fulfil your request if appropriate either by supplying you with the information directly or by passing your request on to the relevant person(s).