The N drive is backed up regularly, you can easily restore files for up to three weeks after they have been deleted using the guidance in the article below.
Snapshot times
A snapshot is a copy of your N drive. Snapshots are taken of your N drive at the following times:
Note: Snapshots are taken at intervals, this means that any work modified between the snapshot times is unlikely to be recoverable, therefore, it is important to ensure that work is regularly saved.
Snapshot backups
3 copies of daytime snapshots, i.e. 11:00, 14:00 yesterday and 11:00 today
5 copies of night time snapshots, i.e. midnight for the previous 5 days
3 copies of weekly snapshots, i.e. the last 3 Sunday Nights
Restore files/folders
To restore a file or folder, follow the steps below. Please note file salvaging only works on PCs.
Go to start menu, click on Computer, located on the left and right click your N drive and choose Properties (on Windows 10 'Start -> File Explorer -> This PC')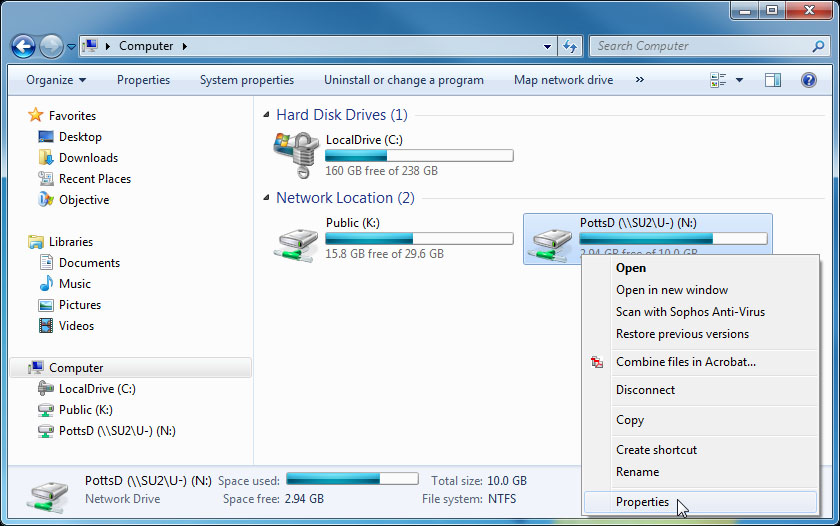 Choose the Previous Versions tab. You will see a list of your snapshots.
Highlight the snapshot version you would like to recover a file/folder from and choose Open

A read-only copy of your N drive from the snapshot date will open, you can then drag and drop the files/folders to your N drive. If you are recovering a file/folder that still exists on your N drive and you do not want it to be overwritten, ensure you rename the original file.

When restoring files you will be prompted to confirm you wish to copy the files/folder from the snapshot zone, click Restore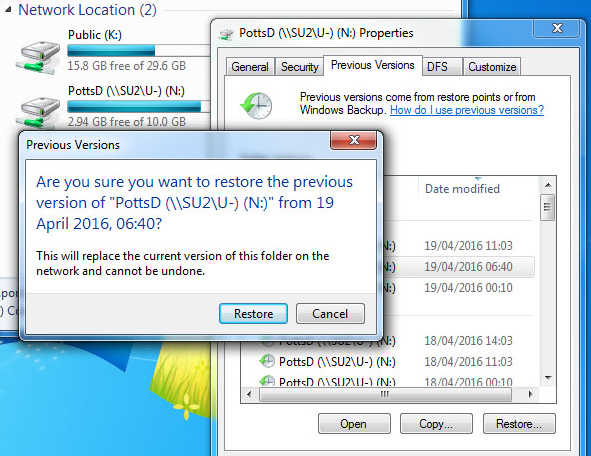 For further information on the N drive, please click here.
---