The University student printers use a system called 'Pull-Printing'. Your print is held in a queue, for 24 hours, until you swipe your student card over the card reader on the printer, which releases your prints to that printer.
This will print everything you have waiting in the queue, so be sure to cancel any prints you don't want by logging into your printing account on MyPrint and going to 'jobs pending release'. You must also make sure you have enough credit to print all you have in the queue, or it will not be released.
You can release your prints on any student printer across campus, which has a card reader, as long as it was sent to either the Student-B&W or Student-Colour queues, no matter where you sent the print from.
Your printing account
You have a printing account so you can print from the University computers and laptops.
Your account is debited every time you print a page. Your printing account is credited with £10 when you first enrol at the University, and then £10 credit is added before the start of each academic year.
Topping up your printing account
You can top up your credit online by going to your printing account.
You will receive a confirmation email which you should keep as proof of purchase in case of any issues.
Credit codes
Sometimes you may receive a 'credit code' from your department or as a promotion.
To use the code:
Log into your printing account
Select Redeem card
Enter the code
Transaction history
You can view and export your Transaction History from your printing account. Please note that you need to click Remove next to Filter to get your full history listing.
Refunds
Please be aware that the University does not refund any unused print credit. Please ensure that you only top up your printing account with the required credit, especially towards the end of your course.
When sending your print, you will get a pop up telling you how much your print will cost. You will not be charged for your print until you swipe your card at the printer, therefore allowing you to top up your account accordingly, so there is no need to accumulate credit on your account.
Printing charges
| Size and Type | Black and White | Colour |
| --- | --- | --- |
| A4 (single-sided sheet) | 6p | 30p |
| A4 (double-sided sheet) | 9p | 45p |
| A3 (single-sided sheet) | 12p | 60p |
| A3 (double-sided sheet) | 18p | 90p |
Printer locations
Anglesea Print Room (0.26)
Eldon Digital Studios (1.125)
Library Open Access IT Suite
Park (0.15)
Portland Open Access IT Suite
Richmond Open Access IT Suite
Liongate (black and white only)
We also have large format printers in the Library (standard large format) and Eldon (standard and specialist large format, including different paper/mediums).
Printing without your University card
You can still print even if you do not have your card or if there is a problem with your card. Login to myprint.port.ac.uk and select Jobs Pending Release, this is where you can also cancel unwanted prints. Next to the item you require, click Print. A long list of print queues will appear, select the one which you want to send your print to.
Alternatively you can go to an IT Help Advisor at one of the IT Help desks in our Open Access IT Suites and they can release the print for you.
Printing from your own device
Use Web Print to print from any of your own devices with access to the University network, Eduroam. Use a web browser to log in to myprint.port.ac.uk and select Web Print.
There is also a new service for Printing from your own device. While Webprint is still available, You can also select to install the UoP student print view on your own device.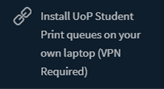 This will guide you to installing a 'Mobility Print' client on your device and make our printers available to you. This is available on Windows, macOS, ChromeOS, iOS and Android. 
Printing single-sided
By default your print will be double-sided (duplex) for environmental purposes. You can turn off double-sided printing by following the guide relating to the printer you are using below.
1. Choose File then Print.
From the print dialogue box highlight the printer you wish to print to and choose Properties (or Preferences depending on what software you are printing from).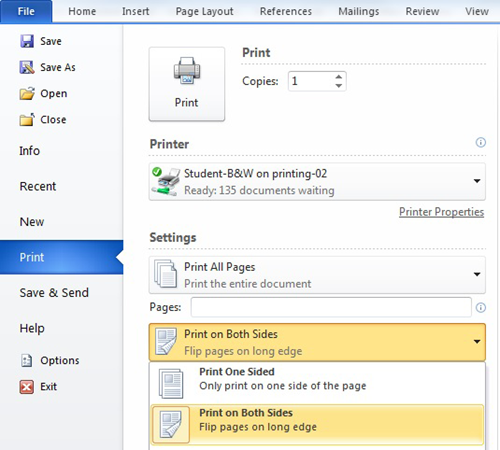 2. Choose the Finishing tab.
Under Document Options make sure that Print On Both Sides is unticked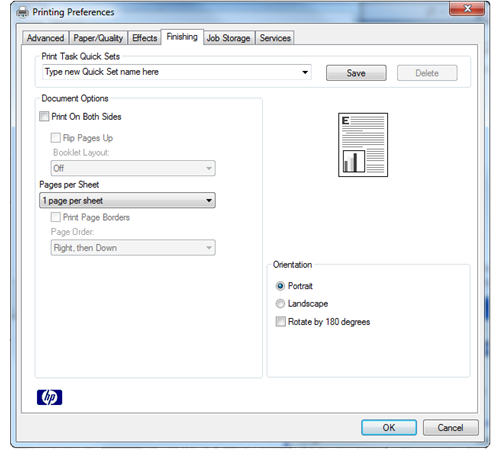 3. Any print jobs sent will then be printed single sided.
Tick Print on both sides if you wish to print on both sides again.
Large format printing
To print to the large format printers, you will need to choose the queue 'student-large-format', which is an option on all students PCs. You then need to visit an IT Helper in the Library Open Access IT Suite, and they will then release your Large Format printing
Printing charges for large format printing
| Size | Cost per sheet |
| --- | --- |
| A4 | £2 |
| A3 | £3 |
| A2 | £5 |
| A1 | £7 |
| A0 | £10 |
Available large format printers
The Library Open Access IT Suite has Large Format printing facilities. It enables you to produce professional-quality print in sizes A4 to A0.
The IT Helpers on-site can assist you in producing your print. The Library Open Access IT Suite is also open on weekends (term time) and has longer opening hours allowing you to print posters out of usual University opening times.
Eldon Building Digital Studios has three Large Format printers, which can use different types of paper (e.g. tracing paper, gloss paper, for a full list of papers and costs please ask staff). Eldon Building Digital Studio is open Monday to Thursday 08.30am to 8.00pm and Friday 08.30am to 6.00pm.
Large format scanning
The Large Format Scanning Service is based in the Map Library on the 1st floor of the University Library and enables you to obtain professional-quality scans of original material.
Originals will usually be scanned at 300 dpi in 24-bit colour and saved as a JPEG. Scans can be made at other resolutions and saved in other formats, including TIFF.
The service is fully managed by Library staff, so just bring your material to be scanned and a USB flash memory on which to save the file. You can contact them in advance by calling 023 9284 3655 or by email at maplibrary@port.ac.uk. All scanning must comply with copyright law.
Contex CRYSTAL XL 42 scanner details
Optical resolution: 508 dpi
Maximum resolution: 800 dpi
Maximum width of media: 44" (1118 mm)
Scan width: 42" (1067 mm)
Scan length: not limited by scanner