Recycling on campus and in the city
Make a difference to the planet with how you recycle your waste
One of the easiest things you can do to be sustainable at uni is reduce and recycle your waste. 
Here are some ways you can reduce your waste if you're living in Portsmouth. If you're living elsewhere the Recycle Now website will be able to help you find local information.
Recycling at home
How you recycle your household waste will depend on where you live. 
Most residential streets have their own recycling bin for clean plastic bottles, cardboard, paper and metal packaging, such as drinks cans and food tins. 
What can be recycled in your green bin council collection
Only certain things can be recycled, and it might be different to where you lived previously. You can recycle the following in your green Portsmouth City Council bin, as long as they are clean, dry, and loose - not in carrier bags:
Recycle these in your green bin:
Drinks cans
Plastic bottles, like drinks, shampoo and cleaning product bottles (please rinse and put lids back on) 
Paper such as newspapers, magazines, envelopes, junk mail
Food tins
Clean cardboard, such as cereal boxes and greetings cards (please break down larger boxes)
Aerosol cans
Small electrical items (such as hairdryers and toasters) can also be put out alongside your normal recycling collection. Remember to:
Remove any glass, such as lightbulbs
Put items in a normal-sized carrier bag
Place the bag on top of the lid of your recycling bin or box on collection day.
What can be recycled in your food waste council collection
In most of Portsmouth you will also have a weekly food waste collection, using small grey caddies. In these you can put:
All uneaten food and plate scrapings
Tea bags and coffee grounds
Out of date or mouldy food
Raw and cooked meat and fish, including skin and bones
Shellfish and seafood shells
Dairy products such as cheese
Eggs and egg shells
Rice, pasta and beans
Baked goods such as bread, cakes and pastries
Fruit and vegetables, including raw and cooked vegetables and peelings
You can find out more about the food waste collection from the council.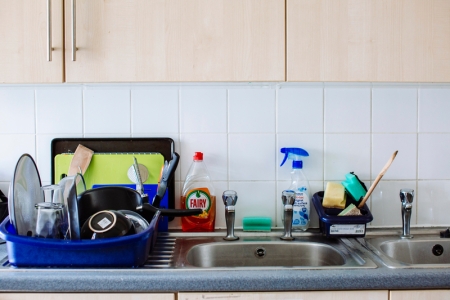 Recycling on campus
Since 2011, the University has increased our recycling rate from 40% to 70%. Our recycling programme saves valuable materials from going to landfill, and any non-recyclable waste is turned into electricity.
A big part of this is our on campus bins, that you'll have seen in University buildings like teaching buildings, the sports centres and halls.
New waste and recycling bins are rolling out across campus in February 2022, to make it simpler to know what goes where:
Yes please: Paper, card, plastic bottles, and cans. 

No thank you: tissues or napkins; other types of plastic items e.g. soft plastic, plastic stationary, face masks, polystyrene; food, liquids or heavily contaminated items like greasy pizza boxes; coated cardboard or tetrapacks like coffee cups and juice cartons; metal foil or trays; or glass.
Yes please: Non-recyclables like tissues or napkins, greasy pizza boxes, coffee cups and other plastic items. 
No thank you: food, electrical items like cables, batteries, broken glass or sharp items, or sanitary or first aid waste.
Yes please: food waste like scraps, leftovers, peelings, tea bags, and coffee grounds.
No thank you: food packaging and liquids - special liquids bins are available in cafes.
Where to recycle other items
Specialist recycling on campus
Some things that are harder to recycle because of the way they've been made. However there are three dedicated specialist recycling points right here on campus to help you recycle stationery, plastic bags, face masks and snack packets:
Ground floor of the Students' Union building
Eldon café
Entrance foyer of the Dennis Sciama building
Find these buildings with our campus maps and directions.
Recycling points around the city
There are more than 100 recycling points around Portsmouth, where you can recycle everything from beer bottles to toothpaste tubes. 
Glass items should not be placed in your regular recycling or waste bins. You should take them to a glass bank, which are all around the city including in residential areas and at many major supermarkets.
The simplest way to recycle plastic bags is to keep them in use. When you're ready to give them a new life, take them to a recycling point. 
Our specialist recycling points on campus welcome soft plastics such as:
plastic carrier bags
food wrappers
crisp packets
face masks
plastic stationary (e.g. pens)
Many supermarkets accept plastic bags along with other soft plastics such as food packaging, including:
Waitrose, Southsea
Tesco, North Harbour
Sainsbury's, Farlington and Waterlooville
Morrisons in Anchorage Park
Plastic food containers can be recycled at 16 local recycling points across the city. This includes: 
Plastic pots (e.g. yoghurt pots, non-black plant pots)
Plastic tubs (e.g. margarine & ice cream tubs, biscuit tubs)
Plastic trays (e.g. meat trays, fruit & veg punnets)
Plastic bottle lids can be recycled if left on empty plastic bottles in your green recycling bin. Don't leave them loose as they're too small to be processed on their own.
Package Free Larder in Southsea collects plastic bottle lids for recycling. Simply take them along to the store and drop them off at their recycling point. The store runs a number of TerraCycle recycling schemes so they also accept plastic roll-on deodorants, beauty care products, toothbrushes, toothpaste tubes and plastic packaging such as pumps, caps and trigger heads.
You can drop off your dental care products and packaging to labelled bins at the University's Dental Academy on Hampshire Terrace, Portsmouth. The academy is open from Monday to Friday, 8.30am – 5.00pm, as part of the Phillips/Colgate and TerraCycle Dental Care Recycling Programme.  
We accept any brand of toothpaste tubes and caps, toothbrushes, electric toothbrush heads, flossing sticks and outer packaging. The products will be sorted, separated and then cleaned, shredded and made into new recycled products. 
Soups, juices and non-dairy milks are often packaged in cartons made from a mix of paper, plastic and foil. This means they're not usually accepted in doorstep recycling schemes. But there are alternative recycling options. 
Cartons, tetrapaks and paper containers with metal ends (like crisp tubes and hot chocolate containers) can be taken to recycling points at the following places in Portsmouth:
You might find your style changes a lot during your time at uni. Instead of throwing away clothes you grow out of, donate them to a local charity shop or textile bank.
There's no shortage of textile banks in Winston Churchill Avenue and Elm Grove where you can drop your old clothes off for a good cause on your way to Uni. Find out where your nearest textile bank is on the Portsmouth City Council website.
Keep your eye out for clothes swaps taking place in the Students' Union or the community. This is a great way to exchange one wardrobe for a new one while helping the environment and saving money.
Batteries can go in designated battery buckets in Uni offices or at halls receptions, or at collection points at many hardware shops and supermarkets.
Batteries can also be collected by the council for recycling if placed on top of your black rubbish bin in a clear bag.
Electrical waste can be returned to many shops that sell electronics. If you live in a residential area of Portsmouth, small appliances like toasters and kettles that no longer work can be left outside in a bag on top of your council recycling in on collection day. Students in halls should contact the hall's reception for dealing with electronics.
It is really important these don't go into regular bins as batteries contain hazardous chemicals and electrical equipment can cause a fire hazard if they get crushed in the lorries.