BEING SUSTAINABLE AT UNI
Read our helpful advice on how to be a little greener while you're studying
If you want to do more to help the environment while you're at uni, consider living sustainably. The way you live as a student can help the planet and save you money.
Use our guide to discover how to reduce your waste, eat eco-friendly, clean your halls or shared house with natural products, shop locally and combat climate change.
How to live sustainably at uni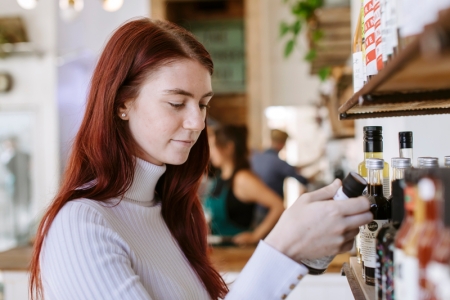 Reduce your general waste and consumption
One of the first steps towards being sustainable at uni is reducing your general waste – this includes plastic, chemicals and fabrics.  
Give away your clothes
You might find your style changes a lot during your time at uni. Instead of throwing away clothes you grow out of, donate them to a local charity shop or textile bank.
There's no shortage of textile banks in Winston Churchill Avenue and Elm Grove where you can drop your old clothes off for a good cause on your way to Uni. Find out where your nearest textile bank is on the Portsmouth City Council website.
Keep your eye out for clothes swaps taking place in the Students' Union or the community. This is a great way to exchange one wardrobe for a new one while helping the environment and saving money.
Mend your clothes
If you have clothes that could be repaired instead of thrown away, find out how to fix them yourself. Learn to patch over holes and sew on new buttons. If you're feeling creative, you could learn a new skill at one of the many craft workshops in Portsmouth.
Sustainable toiletries and accessories
When you're packing for uni and stocking up your bathroom essentials, look for block shampoos and soaps rather than liquid soaps that come in plastic bottles. Treat yourself to new flannels or linen face towels, rather than disposable make-up wipes, and a sisal soap bag instead of a plastic soap puff.
If you're already in Portsmouth, check out our guide to local shops to find great sustainable products.
Environmentally-friendly cleaning
Eco-friendly cleaning products are a great way to use natural ingredients, reduce plastic bottles use and keep your bedroom smelling fresh. Keep a stock of vinegar, lemons, essential oils and baking soda and you'll be ready to clean your windows, wood furniture, dirty drains and bathrooms whenever they need it. 
Use your heating sparingly
Consider the environment and put your heating on a timer, rather than having it on all day. This prevents wasting heat when you're not in. Choose crucial times like first thing in the morning when you might need to take the chill off the air.
During the summer, you shouldn't need the heating on at all if your home is well insulated. Invest in some big jumpers and cosy woolly socks for cooler evenings.

Shop secondhand
Buying secondhand is a great way to live sustainably at uni. Every year students change accommodation and donate their furniture and clothes to charity shops. You'll also find secondhand items for sale online through Facebook marketplace or Gumtree. 
Pre-loved clothes
Buying secondhand means less energy is used to create new products and fewer clothes end up in landfills. It's a budget way to dress individually and add to your wardrobe based on what you love, rather than what's on sale in shops at the time.
If you're looking for secondhand fashion in Portsmouth, Palmerston Road in Southsea and London Road in North End have many charity shops perfect for clothes shopping.
Used furniture
Shopping for secondhand furniture is more enjoyable than buying an item straight off the shelf. You could find antique bedside tables or a unique up-cycled chair. Personalise your bedroom by decorating it with one-off pieces found in charity shops. Debra in Elm Grove is a great example of a secondhand furniture shop in Portsmouth.
When shopping for secondhand furniture, remember to measure your space to make sure it will fit. Also, check the condition carefully before you buy. Used furniture may be cheaper than buying new, but often you can't return the item, especially when buying via online sites such as Gumtree and eBay. 
How we're tackling plastics pollution and sustainability