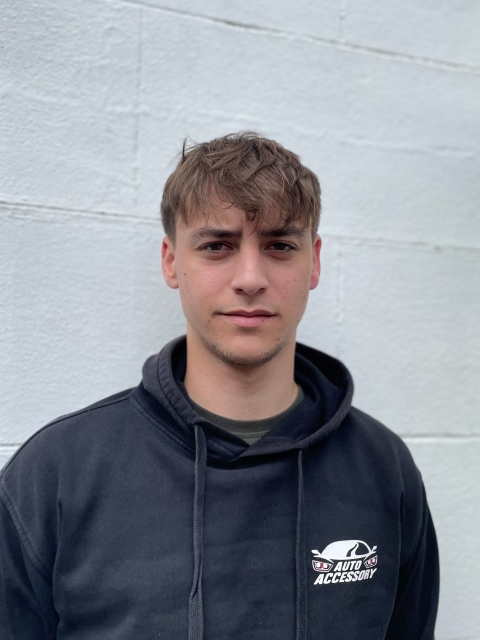 Read Jack's story of starting his own car accessory business
Jack Persey, a Law with Business student, is the founder of Auto Accessory Ltd., and has been running the business for the past year as part of a Self Employed Placement (SEP). Here he reflects on the impact his experience as a business owner has had on him, and how the Student Startup Team has supported him and his business.
Jack started Auto Accessory Ltd. after noticing a gap in the market for high quality products for car enthusiasts, but at very competitive prices. He was inspired to set up the business by the creative freedom that building his own brand would bring, and how being a business owner would help him towards his long term financial goals. 
Auto Accessory Ltd. specialise in creating custom car accessories such as steering wheel wraps and airbag covers. Although Jack started up the company prior to his SEP, he has dedicated the past year to work solely on his business. During this time he has been busy developing private label products and building up his client base - gaining national recognition in the process! He has lots of exciting ambitions for his company in the future, including franchising the wheel wraps across the country, and also aims to sell the new private label products in several big-name retailers by the end of this year. 
So far Jack feels that running a business has been going very well for him, and in particular the SEP year has been a very exciting one - as well as being featured on the social media channels of many automotive influencers, one of the particular highlights was being featured in BBC's Top Gear magazine, which brought his brand to a nationwide audience. 
Starting up his own business has had a huge impact on Jack, especially in terms of his self-awareness and development as a person. As well as feeling he has grown in maturity, and has learnt a lot through successes and failures,  he has also realised that he is someone who is motivated by risk, which is something that he did not know about himself previously.
'...no one really understands my current position with being self employed full time as well as a student…however the Student Startup team have always been understanding and very reassuring at times when I have questioned what I was doing…they are a great team [and] I'll always be grateful to them for helping me.''
Jack's advice to anyone thinking of starting their own business is to 'get to work!' He says that: '...the only thing you need is a passion for your niche and as long as you have discipline it should go well if you play your cards right...'
If you would like to find out more about how the Student Startup team can support you with starting your own business, or for more information regarding the SEP year, then please visit their website here. You can also contact them via email at studentstartup@port.ac.uk