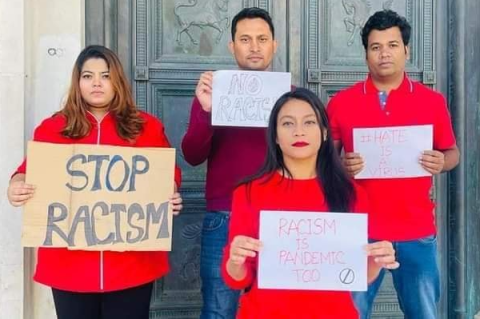 Get involved in supporting the awareness day by wearing red on Friday 21 October
Wear Red Day is back – Show Racism the Red Card's annual anti-racism day is this Friday 21 October.
Last year students and staff joined over 250,000 people nationally to symbolically wear red to support the charity's aims to change hearts, change minds and change lives, and support the University's ambition to build an inclusive culture – different voices, one community – that makes a positive difference to the lives and experiences of our students and staff.
Yvonne Howard, Director of Equality and Diversity, said: "Wear Red Day sends a very visible message that racism is not tolerated and we are united in our stand against it. We want as many students and staff as possible to join us in this symbolic act, while we work to create a truly inclusive culture at the University where all individuals can thrive.
"As part of this, we also recently launched a new Dignity and Respect campaign across campus to champion our Student Charter and highlight unacceptable behaviours and ensure students know where to report them via our Report and Support tool."
How to take part
Students can join us on the day by wearing red on Friday 21 October and taking a group photo and posting it on social media using the hashtag #WRD22UoP as well as the national hashtag #WRD22.
Cards to hold up for photos and badges (subject to availability) can be found in the Library. 
Make sure you use the hashtag #WRD22UoP so we can easily find your photos for a follow up news article on our websites to show our support. 
If you're not on social media, email us your photo at studentnews@port.ac.uk.
Equality, diversity and inclusion at the University
We are determined to create a community based on dignity and respect where everyone is able to thrive and reflect our University values to be ambitious, open and responsible.
Our three objectives are:
To build a positive, inclusive culture that inspires staff and students to realise their potential.
To work towards fair representation and fair outcomes for our staff and student communities.
To develop a robust understanding of our Equality, Diversity and Inclusion (EDI) data to effect sound evidence-based decision making.
We have a new EDI Framework and EDI Governance Structure in place to help us achieve our objectives, which includes providing a greater voice to our student and staff networks and a new steering group with more senior leadership from across the University to drive forward the changes needed. 
Our Equality, Diversity and Inclusion webpages have more detailed information.
PGM Ambassadors
As a group of students, the People/Person of the Global Majority Ambassadors:
work alongside the Students' Union & the University in developing and running student-led campaigns surrounding the PGM Awarding Gap
seek out, listen & act upon feedback and opinions from our Black, Asian and Minority Ethnic students about their student experience while studying at University, thus enabling their voices to be amplified within the University where there is a lack of diversity upon decision making
actively lobby and contribute to the work of the University in tackling the PGM Awarding Gap, with a particular focus on decolonising the curriculum, diversifying student experience, proactively encouraging a more coordinated and better funded Black History Month and supporting the student population and the community in the Black Lives Matter campaigns
audit the University for any implicit racism.
To contact all of the Ambassadors, you can email bameambassador@upsu.net.