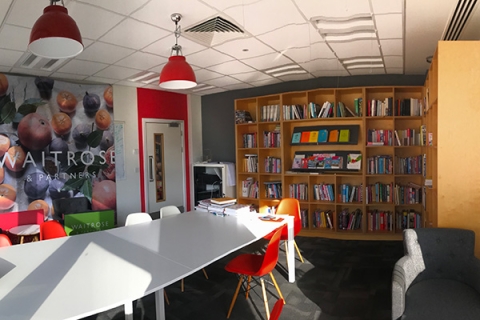 Michelle talks about working in the Content and Design department for the national supermarket
Graphic Design student, Michelle Chang, is another of our students on placement at Waitrose this year. Michelle is working as a Designer and although she only started in July 2021 has already greatly improved her Adobe Creative Suite skills and been to a lively staff party.
How did you find your placement role?
I found this placement on the Creative Careers work placements database. I sent about five applications but didn't need to apply to many because Waitrose responded to my application so quickly.
How did Creative Careers support you in your placement search?
Creative Careers support really helped me in finding a placement. I found the Moodle site helpful as they advertised placements there and I could find them all in one place. The step-by-step guide was also helpful as it told me exactly what I needed to do. The staff replied quickly to emails especially when checking CVs and covering letters. I want to thank Rachael and Eliana for always reassuring me and checking my CV and covering letters. When I had an interview, Creative Careers also helped me prep my answers. The vacancy emails helped me search for a placement more quickly as when a new vacancy opened, it immediately alerted me and I could check it out. Career events prepared me for upcoming interviews and what to expect in assessment centres and just general questions about the whole process.
Who do you work for?
Waitrose and Partners is a brand of British supermarket and a subsidiary of the John Lewis Partnership. I currently work in the Concept team within the Content and Design department.
Tell us about your role
My role is a designer. The Content and Design department consists of about 80 people. The team is split into different areas:
Concept
Art-working
Digital
Publishing
Art direction
I am currently in the concept team where I design the idea or basis of a design and apply it to the given brief. Twice a week, the team gets together to share their work and get feedback from stakeholders. Once a week, the team has a meeting with the head of Content and Design to get valuable feedback on their work. I will be working in the other teams in the upcoming months. I am treated like everyone else on the team even though I am a placement student. Everyone is nice and friendly.
What are the benefits of being on a placement?
I currently study graphic design, so this placement has given me experience of what it is like to work within a design team for a corporate company. As graphic design is a broad area, doing this placement will allow me to figure out which area I want to work in when I graduate.
The placement has taught me how to design within a company's brand lines and how the process works. In university, you usually do everything yourself: ideate, design, print, etc. But corporate companies such as Waitrose and Partners have different areas/teams within the design team:
Concept team thinks of the idea
Artwork team scales the design and sends to print
Digital team focuses on design for digital touchpoints
Publishing focuses on editorial
Art direction focuses on photography
Being in a big team has taught me that collaboration and teamwork is very important with passing on ideas and work.
What are the best and worst things about your placement?
I've really enjoyed meeting new people with design experience and learning how the job works. Besides from meeting my co-workers, I also enjoyed getting to know other placement students working in different areas and them telling me how their team works. Design-wise, I've enjoyed brainstorming ideas for new concepts and seeing other people's work to gain more inspiration from.
The thing I have enjoyed the least would when I get creative block when designing. When thinking of new fresh ideas, I sometimes find it difficult to relate it to the brand as it must link to the brand guidelines. Pinterest, Instagram and design blogs have really helped me open up ideas. My team has also helped with giving their feedback and ideas.
Did you have any concerns?
Covid was a big concern. I wasn't sure whether I would be able to meet people and how I would be able to work with them. Thankfully it worked out well with the team and placement students having a group chat.
Because Covid is still around, I understand that students might not want to do a placement if they can't work in the office with their colleagues. However, even if the placement is online, I would still suggest doing a placement as you will learn a lot regardless and gain a lot of experience.
How have your skills developed?
I've improved my skills on Adobe Creative Suite and now know how to do certain things on the software more quickly. University has taught me how to present work and so when I present my work for feedback, I know how to do it professionally and how to communicate my ideas.
Highlights so far
Presenting my ideas and designs to the team and knowing that the finalised version will be used in store and seen in person.
We had a summer reunion party at the beginning of September, and it was nice to see everyone off-screen and in person. I got to know my team better and the atmosphere was lively.
Has your placement experience so far helped you decide on your future career plans?
I definitely want to pursue a career in graphic design, but I am not sure on which pathway yet. I think I will have a better idea after working with the other teams during the rest of my placement.
I am planning on doing a master's degree to further improve my skills and gain more experience. After that it is hard to say as I don't know what the future holds. But I think I want to experience working in a studio or design agency to see how it differs to a corporate company. Or maybe I could go back to Waitrose and Partners and work there!
Any advice for students thinking about doing a placement?
Doing a placement will give you a lot of experience and looks great on your CV. It will give you a boost compared to other students as you will already have worked in the business and understand how the whole process works. Employers favour students with placements as they know that you have relevant industry experience and work well in a team.
What advice would you give to your fellow students regarding their placement search?
Don't leave it last minute! Start looking early and write the first draft of your CV. Start creating your portfolio even if you don't have much work – you can always add to it. Ask for help from Creative Careers and lecturers. If a company of your choice isn't advertising for a placement, send them your CV, cover letter and portfolio anyway as they may accept.