Before you start studying
Learn about studying at university and what you can do to get ready for your degree
Studying at university can be very different to your previous studies.
Whether you're starting your degree straight after college, or you're returning to education as a mature student, adjusting to the different teaching and studying methods at university can be tricky. Among the types of study you'll experience are:
Lectures
During a lecture, your lecturer presents information to the class. They'll expect you to take your own notes on the subject as they speak.
It's a good idea to take a laptop or a notepad and pen to make your notes, and to put your phone on silent during your class. Lectures will improve your listening, note making and research skills and appear in most degrees. 
Some lectures are followed by seminars on similar subjects where you'll be able to discuss and expand on the information you've been given – so it's important that you make good notes that you'll be able to understand outside of the lecture hall.
Lectures vary in size. Some subjects have classes of 25–30 people, but if lots of students study the same unit they may involve up to 300 people. Make sure you are on time. It can be off-putting for your lecturer and peers if you arrive late.
But whatever the size of the lecture, there's no reason to feel intimidated – everyone is in the same position as you.  
Before, during and after lectures
Before, during and after lectures
In the grid there are 9 activities you'll need to complete either before, during or after your lecture. Drag and drop the tiles into the correct columns from the right-hand side, then click 'Check' when you're finished, to see how you did.
Seminars
Seminars are discussion-based sessions led by your lecturer. Your lecturer will introduce a topic and guide the discussion around it, but you and your peers do most of the talking.
The discussion could be based on an article your lecturer has asked you to read before the seminar, an important topic in your degree, or something else.
You should do any pre-seminar reading or research that your lecturer sets, so you can participate in the debate during your session. If you're unsure about some of the subject material, the seminar is your chance to ask your lecturer and peers to help. 
To get the most out of your seminars. you'll need to play an active part in the discussion, and speak up when you have an opinion or idea. You can exchange views with your peers and discover new ideas and concepts that you hadn't thought of before. 
Don't worry if you feel nervous at first – everyone else will feel the same. Over time, you'll gain confidence and become better at sharing with your seminar group.
You should be supportive of your peers by listening to them and engaging in their ideas as well as your own.
What will I learn by attending seminars? 
Seminars improve your communication, teamwork and preparation skills. You'll learn: 
Subject-specific knowledge
How to listen effectively and without interrupting
Effective communication skills
Confidence in speaking up and asking questions in groups
Independent study 
Most of your time at university will be spent studying independently. Independent study happens outside of your timetabled 'contact' activities (lectures, seminars, tutorials and practicals) and includes the reading and research you undertake when you're preparing for a lecture, writing an essay, or taking part in a group activity.
Independent study requires you to proactively search for information and then critically engage with it. When you're at uni, it'll be your responsibility to set your own study schedule, and to prioritise your workload. You should use a diary or calendar – either a paper one or a digital planner – to plan your studies. 
To get the most out of your time you can visit the library, set up independent study groups with your peers, and access online resources. Studying independently will improve your research skills, critical thinking, problem solving, action planning, motivation and time management.
Being an effective independent learner
Choose the traits that make an effective independent learner from the options below. If you make the correct choice your answer will move to the top of the list and stay there.
Once you've finished you'll have a list of the most important traits of a successful independent learner. Compare these traits to your own attributes to figure out what you're good at and what you might need to work on.
Group work
Being able to work well in a group is a skill that many graduate employers look for, and group assignments are a great way to show your ability to work in a group.
Groups are usually set up by your lecturer and can differ in size, although they're normally no larger than 10 people.
When you work in a group at uni, you'll have responsibility for specific tasks and develop valuable skills like teamwork, communication, collaborative working, thinking and time management.
Working in groups is a great way to gain collective ideas from your peers – individuals bring different perspectives to a problem which can help you consider different ways to completing your task. Group discussions can easily drift off topic, but every team member has something to bring to the project – so it's important to give everyone the chance to voice their ideas.
You should turn up on time to organised meetings and be prepared for subject discussions. You should have any relevant work with you at the start of the meeting and be ready to focus and stick to the meeting plan.
Lab work and practical classes
Your degree may include practical classes depending on your course subject. You'll put your theoretical work into practice and develop your practical skills, communication and problem solving during these sessions.
Practical classes can be lab-based or computer-based, or involve clinical practice or fieldwork. Classes are typically directed by a tutor or lab technician and give you the chance to experience the dynamics of a workplace, and to practice skills you'll need to work in a similar environment after you graduate.
In these sessions, you'll learn subject-specific skills and techniques vital to your professional development. Depending on your discipline you may be assessed on your competency in learning and applying new techniques, and how you gather, record and analyse your data. 
You may need to prepare before your practical classes, and you should check your course handbook to see if you need to bring any equipment or materials to your session. It's a good idea to take notes during practical classes, to help you evidence your work.
Online Learning and Collaboration
Online learning will play a big part in your studies, and you could find yourself using online tools to organise your time, manage notes, research key terms, access course materials, document your findings, share work, and talk with peers.
A huge number of online tools are available to help with this – the AppsAnywhere site helps University of Portsmouth students find apps to help them in their studies. 
You can also access our pre-arrival modules to help you get started with your studies.
Tools for online learning
Working in groups
How to work as a team and plan ahead to give your group the best chance to succeed.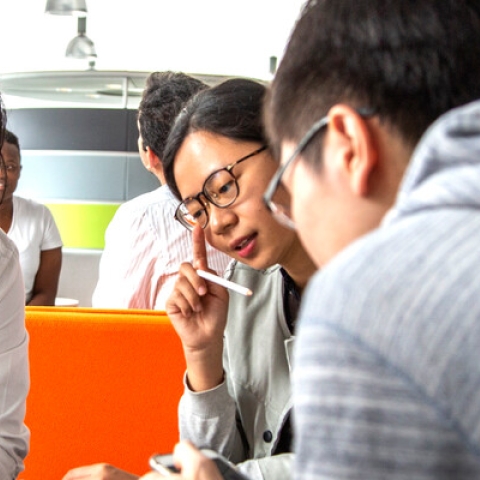 Read more