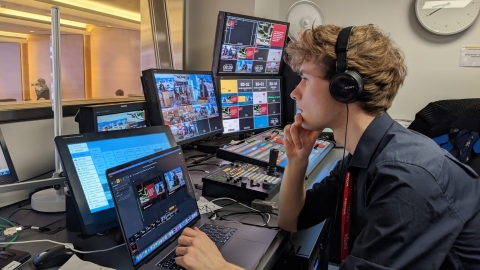 Find out about James Nash - BA (Hons) Film Production student on placement as a video production intern at Totem, a London-based event technology company.



What is your placement title and who do you work for?
I'm a Film Production student at Portsmouth University. During the past six months, I've been super busy completing my industry placement year as a Video Production Intern at a London-based event technology company called Totem.
How is your experience so far?
So far, my experience has been overwhelmingly positive, and the programme has encouraged me to push myself outside my comfort zone to learn new skills, software and establish lifelong industry connections that will help me in my upcoming final year and beyond.
How did you find this opportunity?
In the process of securing my internship, I first applied to the position from a job listing online. I was then asked to attend an online interview with my future manager, before being invited to the office for a trial session in April 2022, to meet the team I could potentially be working with. Whilst incredibly nerve-racking, I received an email the following day to tell me I had got the job!
Did you have any concerns about going on placement?
I began my internship 3 months later in July, relocating to London a month beforehand.
Although it was daunting at first, I settled into my busy new routine more swiftly than I expected and am glad I took the opportunity. Living in London has been thrilling and there are so many weekend activities, venues and attractions to see and do. Even halfway through the year, it still feels like I have only just begun to scratch the surface!
Tell us a little about your role
My role as Video Production Intern comes with a range of responsibilities and I am lucky to have such variety in my day-to-day activities. Totem specialise in event production, corporate marketing and client video production. Working onsite, I shoot highlights videos; record interviews with key speakers; capture short vox pops from attendees and live stream conference debates and discussions to virtual attendees via Totem's bespoke online video platform.
How are your skills developing?
I use Adobe Premiere Pro and After Effects to edit the footage I capture onsite. This includes highlights videos; short social loops; promo videos to market future events, as well as show opener videos and brand assets that are played on the big screen during the events themselves. The company office also features a broadcasting studio, nicknamed 'Over-The-Road'. This space is often used for clients who visit and shoot video content to fit their individual needs, as well as for live streaming.
What's been the highlight so far?
Travel is also another amazing aspect of my placement. During the first six months of my placement year, I have filmed onsite at events both locally in London and Liverpool, and around the world in destinations like Barcelona and, most recently, Vienna. During busy periods I am often travelling to new shoots weekly, and whilst the heavy workload seemed daunting at first, I have come to enjoy the diversity of my work.
Has your placement experience helped you with your future career plans?
The experience has broadened my horizons massively and brought me face to face with speakers like BBC News' Fiona Bruce and Clive Myrie, as well as Channel 4's Andrew Neil. It's a nice feeling to see a graphic or show opener video I've made appear on the screen in front of a live audience.
Tell us more about your experience with TOTEM?
The Totem team are a pleasure to work with and ensure that the office is a vibrant environment to work, where we can all express ourselves openly and creatively. On my internship programme I've been mentored personally by my managers as well as older interns and have had an invaluable chance to learn hands-on from professional videographers, editors and graphic designers within Totem. My work colleagues are always willing to support me and, likewise, I have helped with projects for corporate clients such as Santander and charities like Make-A-Wish.
How has your placement experience been so far?
Overall, I would say that I have loved my placement year at Totem so far. Not only has it been a fantastic opportunity to put the skills I have learned on my course into practice in the industry, using the same cameras and software I have been trained in already, it's also given me an insight into related areas that I'd not ventured into before, such as broadcasting. This has enabled me to reflect on my career and has provided insight on the areas of film and TV I might like to pursue when searching for graduate role