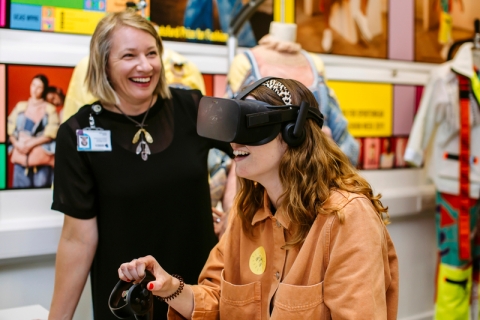 Learn more about what creative technology students do while on placement
From small technology companies to large games groups, University of Portsmouth creative students have experienced a range of workplace environments. The one thing they all had in common was that they were all treated as any other employee and as an equal. They were given opportunities to guide business decisions, future business outlooks, make deals of their own and even present to senior employees. One student mentioned that having an intern title did not mean that they were treated as any less important than other employees on staff.
Creative technologies students' experience
One creative technology student worked as an audio director, where their job was to set out the vision for a game's soundtrack with the game director and manage the progress of each aspect of the game's audio through to completion. This involved music, sound effects, character dialogue or promotional material like game trailers. They collaborated with the game producers and directors to flesh out the direction and style of the audio, then with sound designers and freelance sound engineers to realise each element of the game's audio. They also worked with the publishing team to help with their promotional assets. As with group work in university, there is always collaboration of teams within companies so as a creative technology student you will not always be working with people with the same skill-set as yours. This could also be part of your responsibility as some roles allow you to manage accounts relating to the games industry, and work with them to find creative ways to collaborate together. This can involve anything from creating an advert together or working together to find a hardware solution.
There may also be instances where the role is slightly different than your expertise, for example a creative technologies student, well versed in programming ended up working for Quality Assurance which allowed them to develop different skills.
Creative technologies is not always about a digital, intangible product. In the past, placement students have worked in a digital studio that produced work from concept to a physical product. They worked in animation but also in the technical department. The role was varied. It ranged from being an animator on a project to leading the company's Christmas animation that is sent as a thank you to the clients. One student was also involved in being a technical programmer for an in-house app. This large range of duties is quite a common experience, you could be working as a designer, producer, 3D artist and handling social media.
Placement is worth it!
An exciting experience animation students have noticed while being on placement is having access to lots of amazing equipment and areas like a motion capture room. A student said that they were able to gain experience in technology they never would have access to as a strapped-for-cash student. Students in the past have learnt and developed skills in app development for virtual and augmented reality technology, motion graphics for online advertisement and producing assets for a digital launch campaign.
As well as the technical skills, creative animation students have developed soft skills such as public speaking and presentation skills, project management and learning how to work in a team environment. These skills were developed well especially as many of the roles involved speaking to the client and a large team. All the students that went on placement have said that they have become a more confident person in their role and in general after the placement and a student who did their placement year with Disney believes that experience helped progress their application for a job after graduation.
Our students have worked for many companies including Intel, Volkswagen and Mclaren.
Support from Creative Careers
A student mentions that Creative Careers provided fantastic CV and cover letter feedback, as well as advised some changes specific to the company's requirements. That really helped them stand out from the competitive crowd when going for this internship.
Another Creative Technologies student describes our service as super supportive and welcoming in the process of finding placement. We offered help with their CV and cover letter and plenty of information about how the placement year works, including student finance info.
It is certainly okay to pop by whenever with a few questions and we hope you leave feeling much more confident in whatever you were wondering about.