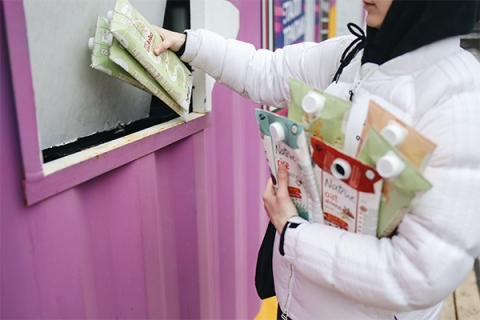 We've compiled a list of places in the city where you can take plastic items that are hard to recycle.
The best solution to plastic waste is to avoid single use plastics and use eco friendly alternatives where possible. When this isn't possible, the next best step is to recycle your plastic products.
Some plastics are easier to recycle than others. Mixed materials, such as cartons, aren't always collected by doorstep recycling schemes. But that doesn't mean there aren't options available.
Here's a handy list of recycling points in the city where you can take your hard-to-recycle plastics.
Toothbrushes and toothpaste tubes
You can drop off your dental care products and packaging to labelled bins at the University's Dental Academy on Hampshire Terrace, Portsmouth. The academy is open from Monday to Friday, 8.30am–5.00pm, as part of the Phillips/Colgate and TerraCycle Dental Care Recycling Programme.
We accept any brand of toothpaste tubes and caps, toothbrushes, electric toothbrush heads, flossing sticks and outer packaging. The products will be sorted, separated and then cleaned, shredded and made into new recycled products. 
Cartons 
Soups, juices and non-dairy milks are often packaged in cartons made from a mix of paper, plastic and foil. This means they're not usually accepted in doorstep recycling schemes. But there are alternative recycling options. 

Cartons, Tetra Paks and coffee cups can be taken to recycling points at the following places in Portsmouth:
Crisp packets 
Like cartons, crisp packets are made from more than one material, making their recycling process more complex. While they're not accepted in doorstep recycling, TerraCycle runs a crisp packet recycling scheme. Use their map to find a crisp packet recycling point near you.
Or even better, try making your own baked vegetable crisps at home and avoid plastic altogether.
Plastic lids and personal care products
The Package Free Larder in Southsea collects plastic bottle lids for recycling. Simply take them along to the store and drop them off at their recycling point. The store runs a number of TerraCycle recycling schemes so they also accept plastic roll-on deodorants, beauty care products, toothbrushes, toothpaste tubes and plastic packaging such as pumps, caps and trigger heads.
Plastic bags and packaging
The simplest way to recycle plastic bags is to keep them in use. When you're ready to give them a new life, take them to a recycling point. Many supermarkets accept plastic bags along with other soft plastics such as food packaging. Local examples include:
Waitrose, Southsea
Tesco, North Harbour
Sainsbury's, Farlington and Waterlooville
Morrisons in Anchorage Park
There are many other recyclable items that can be recycled that aren't on this list. There are also more than 100 recycling points around Portsmouth where you can recycle glass, clothes, books and DVDs. 

If you know of other local plastic recycling points that we've missed, let us know @UoPPlastics on Twitter and we'll add them to the list.