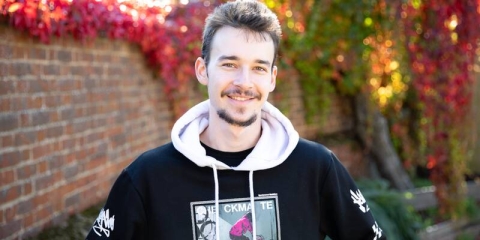 Radu talks about the practical experience gained through his course and his proudest moment so far - International Student's Day 2022
International Students' Day is an opportunity to celebrate our awesome international student community. This year we share five stories from our students about their experiences so far.
Radu, a third-year Film Production student from Romania talks about the practical experience gained through his course and his proudest moment so far. 
What made you choose Portsmouth?
I chose Portsmouth for the course – it was a very practical course. That was the deciding factor. But there are obviously creative benefits to being a film student in a seafront city. Back home I don't have the sea right beside me so the location opened up creative opportunities. 
Being at university allows me to network, use top tier equipment and meet like minded people in my field. 
What was it like moving away from home?
When I came here, I was excited. I was by myself, and I was looking forward to being independent. I moved to Portsmouth in my first year while the pandemic was still on-going but left in November for five months because of the restrictions. It was disappointing. 
I came back again in April – the weather was getting nicer, the restrictions were starting to ease. Sunny Portsmouth is something else! 
I really wanted to be back for the second year – it is such a crucial year for film production students. Fortunately, I had the chance to enjoy the year fully and take part in lots of filming projects. 
What made you feel a part of the University Community? 
In my second year I was the only international student to go on a short film shoot near Reading. I lived there for a whole week with British students. Everyone was curious about my culture; my language and I was curious about theirs. I felt part of the student community and still keep in touch with them. 
I also joined the international student ambassador programme. I like to show people around and share knowledge, so I feel like this was a good opportunity to share with other students more about the City and University. 
Have you faced any challenges? 
One of the challenges many international students face is not being able to pop home for a weekend to see their family. I am pretty lucky because tickets from Gatwick to Romania are pretty cheap – but that is not the case for everyone.
It is hard when everyone is heading home for things like Christmas, there is almost a pressure to leave as well. Or sometimes you just need time at home to come back fresh – international students might not be able to do that. I think a lot of students can relate. 
I'm considering staying here this Christmas – finding people who are also staying and spending Christmas together. I think that could be something new to try. 
What advice would you give your younger self before going to university?
Go out of your comfort zone and approach people first – you don't need to wait for them to come to you. 
Besides that I wanted to be here, to live abroad and be independent so there isn't any other advice I would give myself. 
What are you most proud of so far?
I am proud of being able to support myself financially – that is a huge personal achievement. I wanted to be able to support myself and be independent and I am. 
I was really proud to be involved with the shoot near Reading that I mentioned before. It wasn't a module I was studying but I was invited to be involved. I was the First Assistant Camera and Second Unit Director of Photography. It won awards – there are too many to count but look up HANNAH short film 2022 to check it out! 
Participating in all sorts of short films and film sets at the University is one of my achievements. Being asked to assist on projects that are not my modules – I am very happy that people trust me to go out there and support them with pretty important stuff.