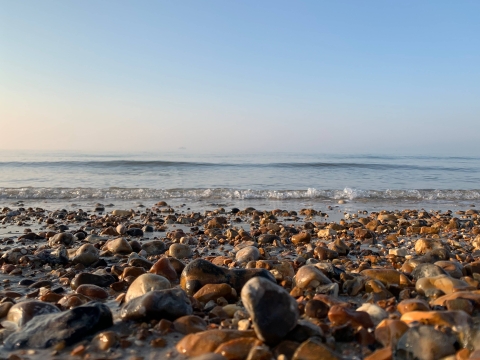 Read on for steps you might take before starting your graduate job
It can be overwhelming to feel you have to 'jump straight in' to a graduate job after you finish your degree. Perhaps you are feeling unsure about what to do career wise? Or, simply want to try a few things out? This article aims to give you some ideas of some 'stepping stones' you could take to build up your skills, experience, and confidence before starting your first graduate level job. Following these steps can help you to learn what you like and value in a job, and where you might want to go with your future career, as well as providing you with experience and skills you can add to your CV and applications.
Volunteering
As well as helping the local community and meeting new people, volunteering is a brilliant way to gain valuable skills and experience, and try out different areas of interest. The Careers & Employability Service work with a range of local not-for-profit organisations in the Portsmouth area and advertise a wealth of volunteering opportunities via MyCareer. If you are not based in Portsmouth any more, why not check out your local council website, or sites like Do-it or Get Volunteering to find roles close to you? You could also volunteer abroad - for an experience that is sure to build up your confidence and skill set, and provide you with unforgettable memories. Read more about our advice on international volunteering
Internships and Work Experience
A short term internship could also be a great option; an increasing number of employers are offering 'Graduate Intern' type vacancies to graduates to help them develop their experience and gain exposure to the professional workplace. Look for work experience opportunities on MyCareer, LinkedIn and other graduate job sites. You could also perhaps look to arrange an informal work experience opportunity yourself, such as work shadowing, or a couple of weeks work experience with a company by using a speculative approach. This type of opportunity could be a great 'taster' for a particular role or type of organisation you might be interested in.  When looking for work experience opportunities, use your existing network - do you have any friends or family that could help you to arrange something?
Self Employment Opportunities
If you're struggling to find opportunities, why not make your own? Self-employment is a viable option for creating income and building experience. You're your own boss, which comes with some very alluring perks. It's an exciting journey that could ultimately give you more freedom and control over your own life. But, you'll need to consider a few of the realities of running a business before jumping in with both feet. Check out Prospects' article: Is self-employment right for you? If you can start-up a business alongside your current job, that's even better - as you'll still have reliable income to depend upon whilst your business is taking off. 
As with anything that's worth doing, you'll need to do some planning if you expect to succeed. That's where your Student StartUp team at Careers and Employability can help. See online Start-Up Resources that cover the basics around developing ideas, money and funding, and growing your business. If you are an international graduate, speak to the team about the visa options available for self-employment.
Online courses
Completing online free courses is another way to take your progression into your own hands. Imagine you want to break into a new industry; you have the skills, but you lack the knowledge. Online courses can help to bridge that gap and get employers to take notice. You can see TargetJobs' article on How to advance your career with online courses.
There are online courses that you can pay for and these courses tend to give you certification or accreditation. When looking at these courses, be sure to verify that the organisation selling the course is credible. Check reviews and make sure all of your questions are answered before paying anything. 
Need some support?
There are many paths to get to the same goal, and graduate jobs are no different. So, if you're not ready to step into one straight away - that's okay! There are options out there, like the ones outlined in this article, and even more which you can find through a little research.
Your University of Portsmouth Careers and Employability service is here to support you for up to five years after graduation. If you need to talk through your post-graduation plans with someone, then get in touch with us by emailing careers@port.ac.uk or phoning 02392 842 684.