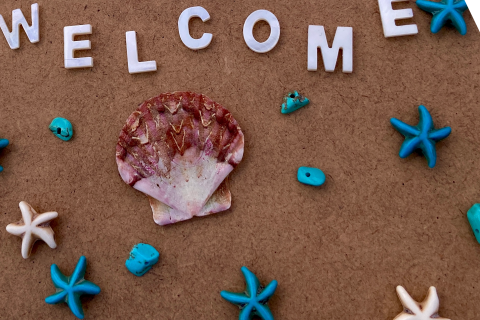 Applying skills from my course to enhance professionalism outside of university
University is a great time to learn new skills but also to put yourself out there and try different things while you are student. There are so many opportunities to take advantage while you are studying. Find out more from Iliriana, one of our BA (Hons) Interior Architecture and Design students who embraced an opportunity to support her own personal business.
Starting a handmade jewellery business during lockdown has enabled me to explore my creative curiosity which led me on a journey to pursuing Interior Architecture and Design at university.
So, naturally when I received an opportunity from the Faculty of Creative and Cultural Industries (CCI) team that there was funding to "enhance professionalism within practice and employment", within the university it peaked my interest.
I thought it was a great initiative to have a market stall to grow my business, Blossomry. However, I required investment for more materials and to hire a market stall area for a weekend, at The Hotwalls Studios Creative Summer Stall Market (12 - 13 May 2022). The CCI Team asked me to complete an online application.
I believe I pitched my idea well and a week later, I was told the news that I had achieved the £250 grant available to enhance my skills for future employment!
After this great news, I was also expected to complete an application for the Creative Summer Stall Market which included getting Public Liability Insurance and having an in depth risk assessment in place. It was not an easy process, especially with juggling deadlines but I received support from the CCI team who really supported and guided me by offering advice and encouragement. A couple of days later, I heard another piece of great news: I was notified by The Hotwall's Studio that I had successfully received a place in the summer market. 
On the morning of the market stall, it was bright, warm and I felt hopeful - it was my first ever market stall, so I was excited! I had spent the previous days hand making my necklace and jewellery stand in the in the Eldon Production Centre so I was proud to display these pieces alongside my handmade jewellery. It was a really interesting experience to interact with residents in Portsmouth, some of which told me about their stories of studying at the University of Portsmouth, many years ago.
On the second day, it was rainy and unfortunately did not have as many customers, but it provided me an opportunity to reflect on what I could have done to make my market stall even more successful.
During the market stall I made friends, inspired other students to begin their own projects and sold many products – to me it was one of the most positive and enriching experiences of my university experiences so far.
University places us into situations in which we have never been in before, therefore it is important to seize every opportunity that you think could improve your interpersonal skills.