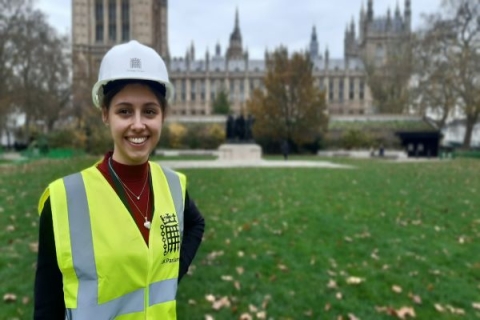 Imogen is an Interior Architecture and Design student working at the Palace of Westminster
Imogen Ashford, BA (Hons) Interior Architecture and Design student, tells us about her placement year working in the House of Commons' Conservation team.
Tell us about your employer
I'm employed by the House of Commons, but my work covers the whole Palace of Westminster. I work within the Project Delivery Team in In-House Services and Estates, and we are divided into six teams.
Primarily, I work within the Conservation team, but some of my projects cross over to other teams too. In Project Delivery we lead development and restoration projects all over the Palace.
What is your job?
I am a Student Project Leader within the Conservation team. I work alongside other Project Leaders on projects involving conservation and renovation of the Palace of Westminster. So within my role I am working on projects at all stages from procurement and implementation to close outs, etc. Also, myself and the other placement student are primary PPE (Personal Protective Equipment) ordering officers. We have to order, purchase and disperse the PPE that is requested from members of the Project Delivery team.
What have you learnt so far?
So far I've learnt so much about the processes that go into beginning and ending a project. I've undertaken training into contract management and business cases, among other things. I've helped in drafting a business case so far too. Also I've learnt more about the RIBA design stages that are the base of developing and delivering projects. Due to the pandemic, I've also learnt how to establish workplace relationships while we're all working from home. Since starting my placement, I've grown in confidence and professionalism. 
Student in front of the House of Commons
Highlight so far
The highlight so far has been being granted the privilege to work on a project to renew and restore some historically significant and prestigious rooms at the heart of the Palace, working alongside designers and the Heritage team to restore the Palace's interiors to their former glory.
What are you going to be working on in the future?
I'm going to be developing the business case to a further stage. I'll also continue to work on the restoration project, hopefully taking on some more roles and responsibilities along with it.
What would you say to any student considering doing a placement?
I'd encourage any student to consider doing a placement. The experience and connections that I have made these past few months have been so worthwhile. I've learnt so much more about the client's side project management and the work that leads up and follows start and completion. I'm now aware of how much it takes to begin a project.
Beginning a placement can be really scary. Due to the pandemic it may not be exactly what you are expecting but the experience I've gained will stay with me forever.