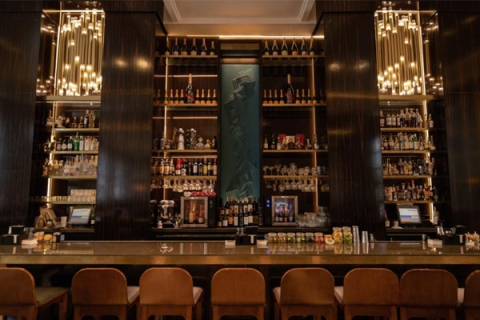 Interior Architecture student Sean tells us about his placement experience with hospitality design company Inn Gear
This year, Interior Architecture student, Sean Price, took the role of project placement student with quirky hospitality design company, Inn Gear. The experience gave him a first-hand look at professional design processes and gave him skills he couldn't have learned at university. Read on to find out more…
Who do you work for?
Inn Gear is a huge, national, bric-a-brac design company based in Salisbury. They refurbish pubs and hotels all around the UK, mainly in London but also as far as Scotland.
During my placement, I was able to understand the entire design process of a project from meeting the clients on-site to installing the final design into the new space. The company offers a range of services, from selecting artworks for a space to designing bespoke furniture and artwork. All of this is done on-site at the company, so you get to watch your design go from paper to an actual built thing. The Wine Vaults on Albert Road and The Old Customs House in Gunwharf Quays are two pubs designed by Inn Gear.
Tell us about your experience
As a placement student, I was placed in a team of three, and between us we handled several projects at a time. We all had our jobs within the team, and it was rewarding to be a part of something that was going to be produced, instead of just being a theoretical idea like our university design projects.
We would install around ten jobs a month from start to finish, so we had a turnaround of about four weeks per project. Our days were always full, from designing visual packs for clients and waiting on responses, ordering the required bric-a-brac, printing off the artwork to delivering the products to the site and managing the project while following building regulations.
How have your skills developed?
Throughout the placement, myself and the other students were placed in challenging situations right off the bat to give us an experience of the real world of being a project manager. This meant I was able to develop and learn a lot of new skills very quickly. This experience has helped me improve my university work, my understanding of software and ability to manage my time to meet deadlines in advance.
Would your recommend your placement?
I would suggest doing a placement at Inn Gear as you will learn skills that aren't taught at university. You'll also make friends as the team are a great laugh and everyone wants to help you learn and develop as a person.