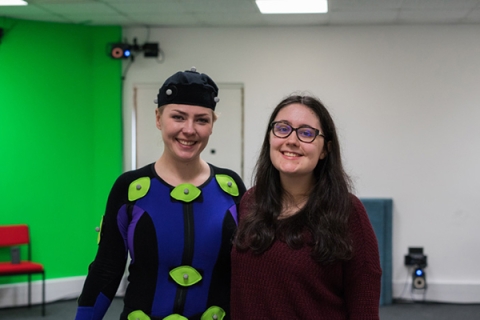 Computer Games Technology student, Alanna Charlton, on her placement experience
Every year several exciting placement opportunities become available within our faculty. Computer Games Technology student, Alanna Charlton, is currently undertaking a placement here in Eldon Building as a Motion Capture Technician. Read on to find out what her experience has been like so far…
Where has your placement been based?
During my placement I have been working in the Motion Capture facility at the University of Portsmouth so everywhere has been quite familiar as it's based in Eldon Building.
What's your role?
I work as a Motion Capture Technician which involves the general every day running of the suite, booking and running motion capture shoots as well as cleaning the data recorded during the shoots. It's an enjoyable role and one where you must be on your toes constantly as there's always something new to do with each week worked. However, it has been a fun role since the beginning, working with students and seeing which fun projects they bring to the table is a highlight.
What are you learning?
I've had the opportunity to learn a lot of new types of software such as shogun live for recording motion capture and shogun post for cleaning motion capture data. I've also had the chance to learn a lot of personal skills such as management and team working as we've had a team of part-time motion capture technicians working in the suite as well. I'm learning new skills every day with the advancements in the software we have and the new technology we receive.
What's been your highlight so far?
One of my highlights from my placement so far has been working on a short film with the part-time motion capture technicians. We got together, planned out a script and recorded some motion capture which we then exported into Unreal Engine where we turned it into a short film. We got to be quite creative with the project as the idea for it was something we brainstormed on and the script we all wrote together. We hope to have it finished and on YouTube by the end of the year.
Any exciting projects in the pipeline?
A lot of our future projects come from work produced by the students of the university. Our next big project will be CASPR week; a full week of motion capture for students on the Computer Games Technology course. During this week, we have a bunch of professional actors come down to the university where we do rapid-fire motion capture shoots with each of the students. Once we have cleaned all the data from the shoots, the students take that data and turn it into a short animated video, showcasing a character and an environment they have modelled. This is quite a big project for us as we will have to clean data for usually around 50 students with each wanting around a minute of motion capture recorded so it takes a lot of coordination especially with the actors who usually all have to travel down from across the country.
What would you say to a student considering a Placement Year?
To students considering a placement, I would say the most important thing is looking for a placement you can be excited about and knowing your stuff. Knowing the industry you want to get into will allow you to get the most enjoyment out of your placement and after all, enjoying your placement is the main thing. It's important to remember that although its a year of professional experience in industry, it's also a year to have new experiences and meet new people.