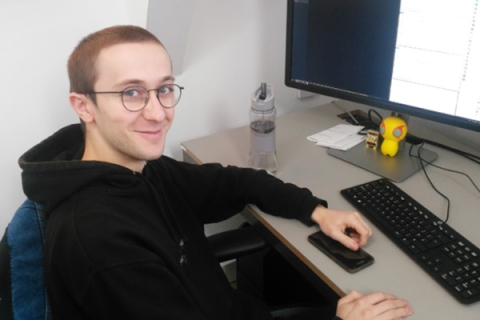 Creative Media Technologies student, Alex Hayward, on his placement experience
Alex Hayward is a Creative Media Technologies student currently on placement with Five by Five in Southampton. He's been in touch to tell us about his brilliant experience so far. Read on to find out what he's been up to…
Tell us a little about your placement employer…
Five by Five is a family-owned marketing agency with offices in Southampton, London, LA and Sydney and has been in business for over 40 years. Over the years, the company has worked with big clients like Adidas, Bacardi, Activision, Bethesda, B&Q, Screwfix and many more.
What's your role?
My job at Five by Five is in the 'Digital Design' team, mostly working on rich media banner ads and motion graphics for online advertising. The clients we work with most are B&Q and Screwfix, but when Activision brings out a new game, we produce all the assets for their digital launch campaign.
What skills have you gained?
Since starting at Five by Five, I have developed many skills which will help me when I go back to university to do my final year. I have become much more confident in my coding ability, especially Javascript as this is what we mainly use when creating our banners, and how we do all the animation, which is powered by the GSAP library. I've also improved my After Effects ability, from techniques to expressions, to simply how to maintain an efficient workflow within the software.
What's been the highlight so far?
My highlight so far has definitely been getting to work on the launch campaign for Modern Warfare, the latest in the massively popular Call of Duty franchise. In just 20 days, we delivered over 3000 assets, for 28 countries in 18 languages. While it was a busy time with a few late nights, getting to work on a project as massive and recognisable as this will be something I will always be proud of. I even got a free copy of the game to play!
What would you say to someone considering a Placement Year?
I would definitely recommend a placement to anyone considering doing one. Not only has it helped improve skills that will be useful in third year, but it's also helped me consider what kind of path my career could take and given me a taste of what it's like to work a 9-5 in a marketing agency environment. I've also got a lot of work I can put in my portfolio, which will hopefully give me an edge when I start applying for jobs after my final year.