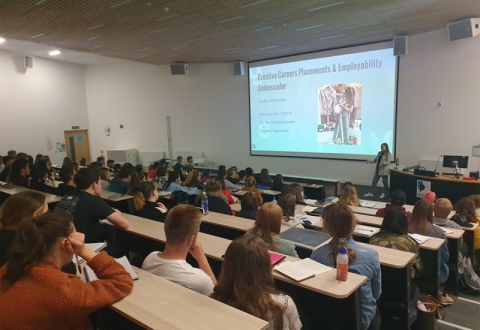 Kaitlin tells us about her year as a Placement Ambassador for Creative Careers.
My year as a Creative Careers Placement Ambassador has completely flown by. It seems like just a few weeks ago that I started in the role.
How did your interview go?
My experience of the interview process was very unique. The date we had scheduled fell while I was in Italy for the month of July, 2019. I was there for the World Hang Gliding Championships, working as a driver for the British Team (believe me, it's just as fun and random as it sounds). Eliana and the team Skype-called me while I sat in the backseat of a car in a dusty field with 30-degree heat. Definitely a job interview with a difference!
What was your role?
I was really fortunate to secure the role as lead Placement and Employability Ambassador (or PEA for short!). This was the first year that Creative Careers had enlisted a team of ambassadors, with one from each school. We worked together in various ways, ran and supported events, and were all on hand for students to ask industry-specific placement questions.
While our subject areas varied, we all had something big in common, we loved our placement year experiences. And who better to talk to the placement-curious than someone who's done one and absolutely loved it!?
What was your first experience on placement?
The year kicked off with the Student Placement Awards, where employers and students got to nominate their counterpart for going the extra mile, and all students got to celebrate their success. It was a great way to meet other Placement students. At the event I gave a speech thanking the Creative Careers team on behalf of all the successful placement students of 2018/19. I also used the time to announce a new initiative, The Returning Placement Students Network. It was a Facebook group designed to connect like-minded students who had returned for final year.
Did the Returning Placement Students Network have the expected impact?
A common concern of first and second-years is that they'll have to do final year without their friends, who've potentially graduated the year before. Or that they'll be older or out-of-touch with other students when they return. Well, I'm happy to report that the Returning Placement Students Network was a complete flop! Why am I happy? After an initial bit of buzz and a few new Facebook friends made, it was clear that no-one really needed the group. They had all managed to make friends with other students, locals or classmates, and went into final year with all the social connection they needed. Happy days, eh?
What were your responsibilities as PEA lead?
For most of the year, I worked in the office a few days a week. I had a variety of responsibilities, from updating and refreshing the all-important vacancy database, to having 1-1s with potential placement students, to running our Social Media accounts, to editing and writing blog posts, just like this one. Another large part of the job was public speaking. I often went into lectures and helped Eliana deliver brief presentations about the placement process. I gave speeches with Associate Dean for Students, Simon Brookes, at open days. I even planned and hosted my own event for first-year students, which was a great success!
Did the start of Covid-19 pandemic affected you work experience?
Naturally my ambassadorship and final year of uni have been a little different to those that came before me. I was actually in the office when I saw the first headline about Covid-19. Of course, at that point it was still something happening far away and was definitely not going to hit here, right?
Wrong! It wasn't long before we, the Creative Careers team, like so many others, found ourselves working from home. Luckily I was able to continue my administrative, blog and social media duties from home. But it was a shame to not get to meet and talk to students considering a placement year anymore.
The last few months have had their challenges, but I've been really lucky to keep my role in such a time of uncertainty. It's been a pleasure to work with and support the team that helped me get the placement role that has undeniably changed the course of my career and life.