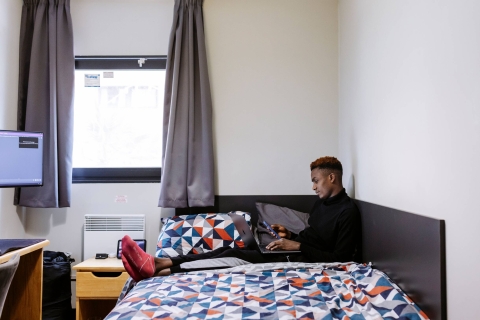 Read lived experiences of being a student at uni without the support of family, for Estranged Students Solidarity Week
Being an estranged student is tough depending on your situation. For me, I have absolutely no contact from family so being surrounded by people with families and homes to go back to during the holidays does get really tough, not to mention how difficult it can be from a financial and mental health perspective.
During my time as a student I noticed people complain a lot about going home for the holidays or visiting family. It does rouse feelings of jealousy because having lots of support from family is completely unimaginable to me and sounds like a dream, especially because you can feel so alone in student accommodation.
Living in student halls, while being an amazing experience, can have its fair share of hardships. It can be hard to see the place you are renting as a safe space. This could be due to cleanliness or just generally because you're feeling quite lonely. Sometimes you do crave that sense of safety, especially when you are preparing for
exams. During Covid, a lot of students were able to go home while some were left in student halls unable to spend time with family or friends, causing them to be completely isolated. For me, I was unable to see my significant other and his family. When I caught Covid early on I was unable to take care of myself and I felt distraught at that time.
Treatment of estranged students
From my experience, a lot of estranged students are treated in a variety of ways, it's hard to describe. Some people treat you like any other person but some can seem overly nice, overly cautious or generally avoid you because of a stigma that "runaways" turn to a life of crime or substance abuse. This is very rare but it has happened to me personally a handful of times. It can feel very condescending but I find in university people are generally very nice about it and don't bring too much attention to it.
There is a whole other side to estrangement in which people have very rarely seen it first hand and are unsure how to support someone who may be estranged. I feel that it's due to a huge lack of awareness around estrangement and the circumstances in which it occurs. Even though there is a lot more support than when I first became estranged from family, there is still a lot more that needs to be done to bring awareness. Solidarity Week for estranged students is so important because it brings awareness to estranged students and offers to provide people with valuable information on the issues of family abandonment and how to help as well as what to do and who to turn to if you yourself are in that situation or if you know someone who is estranged.
University support
The University helped me in so many ways but the most important way was through their financial support as I really struggled with affording rent and paying for essential software and equipment that was vital to completing my course. It's also due to the student finance department that I have connected with people who are also estranged.
If you are thinking about going to university as an estranged student I would definitely encourage it. You will meet like minded students all the while studying your interest and passions while creating a career for yourself and learn how to become self-sufficient. While university can seem stressful or nerve wracking, the overall experience can offer so many life lessons and lifelong connections. It's through university that I've learnt that a support network doesn't necessarily have to be a blood relation, it can be anyone you relate to and can share vulnerable moments with. It's through university that I met some of my closest friends so I will always encourage them to at least try.