Chief Executive Officer (CEO) and founder of Suada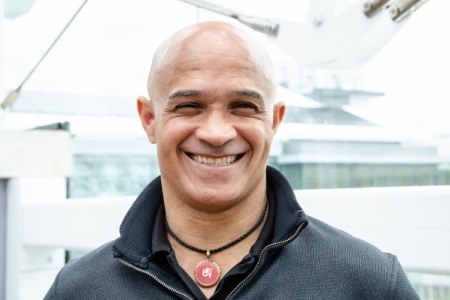 I'm absolutely delighted to be an Entrepreneur in Residence – empowering the next generation with the most important life skill, how to be persuasive and influential using the power of words.
David Thomson is Chief Executive Officer (CEO) and founder of Suada, a sales training and coaching company.
David is a practised and passionate speaker, coach, consultant and advisor. His company offers coaching that covers all of the essentials of sales – positive mental attitude, negotiation, influence, questions are the answer, fact-finding, framing, neuro-linguistic programming, opening, pitching and closing.
A veteran of several start-ups (David successfully ran 2 other businesses before Suada) David is a Napolean Hill certified instructor, a qualified life coach, and one of only 19 trainers personally trained and endorsed by Dr Robert Cialdini to teach his POP (Principles of Persuasion) workshop.
David is dyslexic and struggled at school. He joined the army and came out of the forces with enough money to pay off his loans and buy a green Ford Capri his friends called Kermit. At the age of 21 he got a job packing Doc Marten boots, but it was a chance encounter with a book which changed his life – William Clement Stone's 'The Success System That Never Fails'.
The book spoke to him and he took a new path – after six interviews and a lot of persuasion he secured a sales role at a mortgage company. Every moment he was in his car travelling to this job, he listened to business and personal development audio cassettes, learning from the greats and growing the belief that if the likes of Clement Stone and Napoleon Hill could go from rags to riches, why couldn't he?
David's philosophy is that if you're prepared to be outrageously brave, and you're prepared to follow it with determined action and hard work, then you can achieve your wildest dreams.
Interview with David Thomson
Hear David talk about his rags to riches story and why he chose to become an Entrepreneur in Residence.
Jaimes Harrington
Hello and welcome to Business Talk. My name is Jaimes Harrington, and today I'm delighted to be joined by one of our newly appointed entrepreneurs in residence, David Thomson. Hello, David, and welcome to Business Talk.
David Thomson
Hey. Welcome, welcome.
Jaimes Harrington
Thank you so much for taking time out to speak with me today. Here at Business Talk, we are really excited to announce that the University of Portsmouth Entrepreneurs In Residence Programme has grown from 14 to 22 entrepreneurs.
Jaimes Harrington
So, David, you describe your career as a Hollywood blockbuster. And can you, for our viewers, just give a brief summary about yourself and your career?
David Thomson
Yeah, well, starting out in life, my beginning was really hard. So by the time I was 10 years old, I lived in nine different houses, been to five different schools. And, you know, so it was-- it was a tough upbringing. One of the houses I lived in was a children's home. So, you know, that's not what you would say sets you up for success in life.
David Thomson
At 16, I left school with zero qualifications and, you know, I'm dyslexic. So when-- in the 80s, when I was going through my schooling, they didn't have dyslexia as a condition. People just couldn't have that. So they just thought I was a bit thick. And from my perspective, I always thought, well, I wanted to be successful. I was pretty good at sport. And I grew up in pubs and clubs, you know, and I'd seen other people winning and I was quite good at winning. So I wanted like that success. But most people that looked at me, they'd have gone, well, he's in rags and he's going to stay in rags.
But at 16, I left school and joined the army. I became a soldier. Learnt to box. And I became tough which was one of the things I wanted to do in life. You know you want to do that to protect yourself when you've gone through like abuse. We all know people that go through abuse. I just-- just didn't want it. And I wanted to get that success. And so, you know, the army living in a children's home, growing up poor, you know, all those different schools, you know, most people would say, well, there's no success coming from that. But then I discovered in 1990 a book that changed my life, that sort of read me more than I read the book. And when I read that, you know, I started to understand about persuasion and influence, and it took me on to build a career where I became the top financial adviser in the UK. Made millions of pounds and, you know, changed my life. So that's rags to riches in a very short space of time. They're very, you know, a very short snippet.
Jaimes Harrington
It's great to hear the success of your career journey and that all entrepreneurs come from all walks of life. I think many of our viewers will be able to resonate with your story. What was the biggest failure and what did you learn from it?
David Thomson
My biggest failure probably led to my biggest success. So what I learnt from it was in 2008, I worked with a business that I created which was called Best Deal Insurance. And the business was doing really well. We were making two million pounds a year profit. And, you know, that was my two million pounds. I got a Ferrari, big house, and the rest of it. And I was just about to sell my company for like 30 million pounds. I thought I'd arrived and I thought I made it. But then Google decided to do what Google can do. They moved all that rankings around and we lost all of our leads. And then when we lost all of our leads, I started to lose all my financial advisors. And I had like, there was 200 staff in the business, maybe there was, I don't know, 70 financial advisors and I started to lose them one after another. And when people leave, not only do you-- do you-- do you miss the revenue they make, but you also miss the problems they solve. It's almost hard to work out like how to solve all these problems. And, you know, from thinking I'd made it, I realised that I still had a massive amount to learn.
David Thomson
From making a lot of money, I realised I've got nothing. And probably the biggest lesson I learnt from that was how to-- how I become successful. I started like checking through my backlog of how did I learn about the DNA of persuasion and influence, and then how could I teach that to others? And what I started doing was teaching ordinary people about positive mental attitude, about negotiation, about framing, about how to ask the right kind of questions. About Socrates and Socratic questioning and really understood the things that made me successful. And then I was able to teach just ordinary people to be extraordinarily successful in most people eyes, and they could earn a six-figure salary, get a job wherever they wanted to get and get life to pay it on their terms. And so that was the thing that I learnt – how to teach other people to be successful with persuasion, with influence, with sales. And that was a great lesson to me, because at the time what felt like the end of the world, turned out to be one of the biggest benefits I could ever get. And that's why I'm working with you guys at the university because I get my good feeling by seeing other people become successful. And obviously, if you're dealing with people that are paying their own money out, borrowing 50,000 pounds to go through university, the one thing they want is a break. Right? Everybody wants a break. Well, I can help all of the people that are going through that want the help within the university to understand the science of persuasion and influence and become successful. Because if you want to, if you want to go out right and you want to get a new job, you need to know how to influence. Right. Yep, you want to get a date, you need to know how to influence, you want to persuade-- if you've got family, you want to persuade somebody in your family to do something. It could be me. I had to persuade my mom to go into a care home. I needed to know how to influence. So if you can do that well, life starts to pay out for you. But if you can't, then you have to sit and wait and hope and suffer. And so rather than seeing people suffer, what I wanted to do was be able to help and contribute and teach people the shortcuts that we take as human beings to get them to be more persuasive and influential. And to be more successful. And when you're getting things working out your way, Jaimes, like when you look at life and you think I can get stuff to work my way, then is better because you feel like you've got an element of control.
Jaimes Harrington
I mean, that leads me nicely to my next question. What one thing you wish you had known when you started out in your career?
David Thomson
Oh, I wish I'd known about... What I think is a lot of times we're left wondering. We're looking for like the element, how do you get into your element? How do you get into your space? I mean, I wish I'd known that there was a space that I could make a lot of money and be successful just talking to people. I didn't have to go to be a bricklayer or a plumber or electrician or arty. I wish there was-- I wish I'd known about that earlier because I could have started learning about it earlier and I could have been successful earlier. And also, like, when you look at the Olympics, you know, you see them doing the high jump and the bars like 2 metres. And you think, I could never do that. Well, most jobs were like that for me. Right. But when it came to learning about how to be more persuasive, how to be more influential, the hydrant was on the floor. It was just as high as the kerb. And I was like, this is so easy. But most people don't know about it. So I wanted to go into something where the bar was as high as the curb. You know, I'm only five foot seven, so that's about as I'm jumping anyway. So that was the right space to go into for me as opposed to trying to go into something that was a 2 metre bar. So you're learning about that. And also, it was interesting. So I wish I'd known about that earlier.
Jaimes Harrington
I'm always asked a question from members of staff and from our business friends as to why an entrepreneur would want to be an EiR. It is an unpaid role and all of our entrepreneurs are busy business people. And so, David, why did you want to be an EiR and how did you hear about the programme?
David Thomson
So I wanted to be an EiR because I believe in karma, right? Say, I get an extra thirty years of life, that would be lovely. But I believe that what you put out in life, you get back. And so I get got my good-- I get more good feeling by helping people and also I'm the least likely student that ever existed in history. I hated school. I thought it was terrible, a complete waste of time. But now I'm a teacher and I love teaching. I love seeing people learn. I love seeing them grow and then sharing their stories of success.
David Thomson
On my site Sueda.com and you look at one of the last reviews, it was a guy that was a NASA rocket scientist for fifteen years. He run their deep outreach space projects who created artificial intelligence. I taught him and his team how to use persuasion and influence to sell their technology into the world. You don't have to be somebody from NASA to be successful. He has a double PhD, an incredible guy. And then you see him saying, wow, you've shined a light where I didn't know that existed. You've helped me. And that makes me feel incredible. So keep starting out today. They need to break. All right. They need a break. And if not me, then who? And if now, then when. So I'm like, I can do it. And also, like, it's the right thing to do. You feel inside of us, you know, whether something is the right or wrong thing to do. It's called integrity. It's called your conscience. So for me, it's the right thing to do. So when Phil Carr, you know, he's a fantastically successful entrepreneur, started telling me about the merits of your programme, the kind of people you help. You know, I thought I'd love to be involved and I feel privileged to be involved with such a glamorous University. You know, right by the sea. I'm delighted to be involved. It's great.
Jaimes Harrington
That's great to hear because when we go through the recruitment process, you know, we are looking for entrepreneurs like yourself, you know, people who are enthusiastic and more importantly, wanting to give back to the business community and to our students. What three tips would you give to a student who is looking at starting up their own business?
David Thomson The first thing is learning about persuasion is the most important skill. If you don't learn how to sell what is your idea, you'll never be successful. So you know, anybody that wants to be successful, you have to learn, you know, what it takes. And so that's what I'm here for, to help you guys with that. So you got to get that right first. The reason you need to get that right first is that's where the money comes from. Doesn't matter how good your idea is, how great it is, people won't come and buy it if you don't create the right frame, the right setting, the right environment. So that's tip number one.
David Thomson
Second thing, learn about positive mental attitude. One of the best things I ever learnt was positive mental attitude. So learning about attitude and the role it plays in success. Then the last thing is community. Being in the right community with the right people, you know, people are pervasive. If you're with negative people, they'll take you down. You know, as a kid growing up, I had the choice to make at 16, I could have gone down the wrong road. I went to work in a shoe factory to start with. And that was horrible. It was it was horrible. And there was people that were there, it was like the Hotel California. They stayed there forever. I've got to change the environment. And I've got to change people that I'm putting around me. So when you put other people around you, really good people around you, you know who they are and speak to them asking for help. And you'd be surprised how many people would be prepared to help you if you're prepared to ask. So get the right people wrapped around you. Sort your attitude right. And then learn about persuasion and then life starts to fall and you start to get things in your way. You know, like you have that domino effect where all of a sudden, you know, I can see clearly now the rain is gone. The world's a better place.
Jaimes Harrington
Here at the university, we are really fortunate that we have a great portfolio of entrepreneurs who are very influential to our students in supporting them when they're starting up their own businesses. And so, David, who influenced you when you were growing up and when you started out in your career?
David Thomson
When I first started growing-- when I was 11, we went to a club called the Windmill Club. And it was, you know, most of the kids in the 80s went to pubs and clubs, and we went in there and I used to see people playing pool and snooker and whatever, and they'd be successful. And I started to win. So my first influences were looking at the parents, sort of different my parents, that were sort of happy and successful and would have a few drinks without having to have a fight. So those parents helped me. But my first real influencer that helped me was a guy called William Clement Stone, and he wrote a book called The Success System That Never Fails. And when I read his book that changed my life, that was an incredible tool for me to learn about a positive mental attitude and role it played in success. So you know that was crucial. What encourage all the guys going through the universities to do is to speak to each of the entrepreneurs. Say would give me ten minutes, would give me half an hour of time because that's what they're there for, and then tap into them and get some advice from those brilliant people that are around them.
Jaimes Harrington
I mean, that leaves me with my final question to you here from Business Talk. David, what was the best compliment you've ever received?
David Thomson My best compliment that I ever received I got last year from a lady called Maureen Sumner Smith, and she's the COO of the British Standards Institution. I did some work with them and helped their sales go up substantially. And what she said to me was that she said, David, and I said, Maureen, what do you think more what do you think I do? You know, because you don't see yourself. And she said, David, you help people fulfil their potential. You create careers rather than jobs. You make sure that they can stay and they get a career rather than a job. And I thought, wow, and that's the best compliment anyone's ever told me. I didn't tell her that, I've never told her, this first time I've said it. But she said to me, you give people careers rather than jobs. And I thought that's what-- and you help people fulfil their potential. It was the best compliment ever.
Jaimes Harrington
David, thank you so much for your time today and talking with me here at Business Talk. For our viewers, if you'd like to find out more about the University of Portsmouth Entrepreneurs in Residence programme, please click on the link in the description box.
Speak to us
If you're a student interested in working with our Entrepreneurs in Residence, email us at eir@port.ac.uk. We'll work with you to help you get the best support.