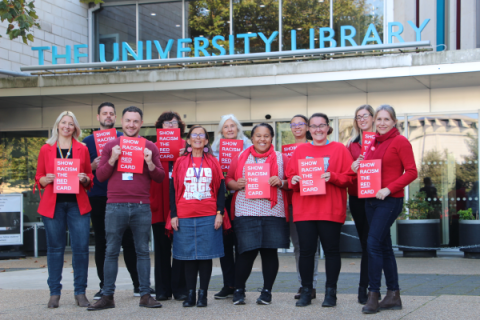 Get involved in supporting the awareness day by wearing red on Friday 22 October
We're supporting Show Racism the Red Card for Wear Red Day on Friday 22 October.
Students and staff can join us on the day by wearing red and taking a team/group photo (or a Zoom/Google Meet screenshot) and posting it on social media using the hashtag #WRD21UoP. 
We'll then collect the photos for a news article on our websites to show our support. Make sure you use the hashtag #WRD21UoP so we can easily find your photos.  
If you're not on social media, email us your photo at studentnews@port.ac.uk.
Emilie Smith, co-chair of the Multicultural Staff Network, said: "It's great to see the University community coming together united behind such an important message. We are a diverse community, home to students and staff from over 150 countries and around 25% of our students identify as Black, Asian or Minority Ethnic.
"Taking part for Wear Red Day will not solve societal issues around race, but it does help signal our support and determination to create a truly inclusive culture at the University where all individuals can thrive. Please help spread the word and wear red." 
Report and support
Everyone has the right to feel safe and welcome at the University. Bullying, harassment, prejudice, discrimination and sexual misconduct of any kind are completely unacceptable at any time. Please report any incident of socially unacceptable behaviour so that we can identify common issues and offer support.