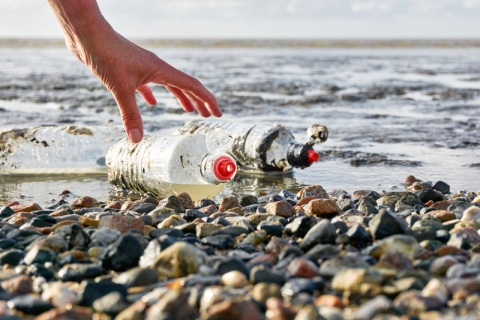 Find out which students have won top prizes for their short films about plastic waste, and choose for your favourite in the People's Choice vote
A group of three students have won the top prize of £3,500 for their short film encouraging people to take action on plastic waste in Portsmouth.
The six best entrants presented their ideas to a judging panel, which included representatives from Santander Universities, the University of Portsmouth and Jetsam Tech.
The winning film
Hebe Hemming, BSc (Hons) Sports and Exercise Science, Adam Morris, MPharm (Hons) Pharmacy, and Jonathan Howe, BA (Hons) Film Production created an excellent short film to inspire local people to take part in the world's first city-wide plastic waste survey, which is happening right here in Portsmouth this year.
The group's well-thought-out campaign plan and presentation impressed the judges to secure them the top prize. Hebe Hemming from the winning group said:
"We are absolutely delighted to have won the competition. Reducing plastic pollution is a topic we are all very passionate about, especially in Portsmouth. We loved working together to create the video and campaign.
"Thanks to Revolution Plastics and Santander Universities for running this competition and to Jetsam for the creation of this fantastic app, we hope that soon everyone will be using it."
We are absolutely delighted to have won the competition. Reducing plastic pollution is a topic we are all very passionate about, especially in Portsmouth. We loved working together to create the video and campaign.
Fighting Plastic Pollution - Revolution Plastics student competition winner
Watch the winning film
Disclaimer: This video has been created by students entering the competition and is not owned by the University. This video was created by three students, Hebe Hemming, Adam Morris and Jonathan Howe, from the University of Portsmouth to raise awareness of the issue of plastic pollution and to encourage local people to tackle part in plastic surveys in the city of Portsmouth.
Hebe Hemming: Plastic was good, but now it's killing us. This is what they show you. This is a reality. This is what it's like. This is what it could be. An estimated eight million tons of plastic enters our ocean every year. By 2050, there will be more plastic than fish in our oceans. One in three fish contains plastic. It is estimated that seafood lovers consume 11,000 pieces of toxic plastic every year. So what can you do? The solution starts here with you. Want to help reduce plastic pollution around Portsmouth city? Have a busy schedule and don't have time? Jetsam is the answer. Stretching the legs? See some old plastic clothes pegs. Whilst on a voy, spot an old plastic toy. So instead of just taking a picture of this, also snap a picture of this. This is the first step to being more sustainable and protecting our island city. Take part in the world's first city-wide plastic survey right here in Portsmouth and download Jetsam today.
Watch the runner-up films
The second prize of £2,500 went to Jay Bedwell, studying BSc (Hons) Marine Biology, and the third prize of £2,000 was awarded to Media and Digital Practice student, Lee-anne Russell.
The competition was supported by Santander Universities and Jetsam – a phone app that helps you catalogue plastic waste. 
Vote for the People's Choice award
There are more prizes up for grabs, with the other three videos facing a public vote for the remainder of the prize money. The winner of the People's Choice will be awarded £2,000 and the runners up will receive £500.   
Watch the three shortlisted videos and cast your vote on Revolution Plastics' Twitter account. The video with the highest number of 'likes' will snatch the £2,000 prize.
About Portsmouth's plastics survey
The plastic litter survey will start later this year as part of the University's Revolution Plastics initiative. 
We're collaborating with Jetsam Tech on what is believed to be the world's first citywide survey of plastic pollution using a citizen science-based approach, thanks to funding from the Flotilla Foundation.
Members of the public will use the Jetsam app to take pictures of plastic litter, providing data about the location, volume and types of waste. Volunteers are needed to do this on a regular basis to create a full map of plastics in Portsmouth.
The findings will provide vital information for researchers at the University, who are designing solutions to help reduce plastic use, divert plastics to appropriate waste processing channels and prevent plastics from entering the sea. 
Once downloaded the Jetsam app is easy to use. Anyone can use it to take photos of any plastic waste they see around the city. Every time a picture is taken, the app captures the location of the litter and adds it to a map.