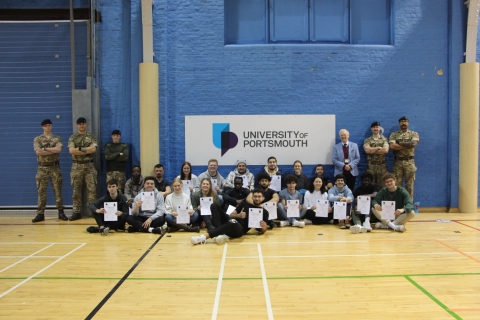 Students' practical leadership skills were put to the test by the Army last week as part of their Business and Management course at the University.
A key focus for our BA Business and Management students at the University of Portsmouth is leadership, and a visit from the Thunder Squadron gave them the opportunity to practise these skills in a series of challenges. Captain Charles Blake, who ran the day's events said: "We deliver a presentation on leadership to the students, who then get the opportunity to put their leadership skills to the test in these practical exercises." 
Creating leadership opportunities for students
Taking place indoors for the first time - in St Paul's sports hall - students took part in 5 leadership tasks, including attempting to navigate through a 'minefield' blindfolded with only a whistle as a guide, and traversing through a giant spider web.
Each student was able to take on the role of leader during the challenges, and this allowed them to work on their communication, coordination, team building, and problem solving skills, much like the skills that the army focuses on in their own training.
One of our students, Jade Grimmett, said: "As well as looking great on your CV, this event allows you to put the leadership techniques learnt into practice."
 

And it's not just students' career prospects that benefit from learning these practical leadership techniques. Billy Ransome, third year BA Business and Management student said: "These tasks help build confidence and communication skills, which will be useful not just in your future career, but your personal life as well."
 
After the tasks, students had the unique opportunity to receive feedback from the supervising officers to help them improve and prepare for future leadership roles and challenges, a fact appreciated by many of the students.
Final year student Emily Gosling said: "When applying for jobs, your leadership skills are often looked at so it's great to have this experience".
Andrew Stewart, Senior Teaching Fellow in the Faculty of Business and Law and the University representative on the Military Education Committee, said: "When one student told me it was her first opportunity to lead a team it made it all worthwhile. I was really impressed as all the students participated with enthusiasm and enjoyed their learning experience. We hope it gives students the feedback and confidence to lead new projects or tasks in their future business career."
The military team who run the practical leadership techniques training is itself part of our Defence Undergraduate Technical Scheme at the University, which provides officer cadets training in the army with the opportunity to study a technical degree during their military training.
Captain Blake, who studies Mechanical Engineering and oversaw the day's events, said: "From our point of view, it's also really rewarding to be able to give something back to the students at the University where we are studying."