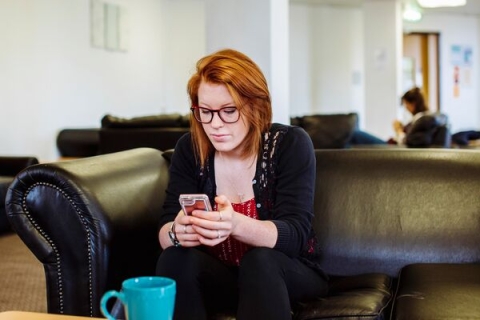 Staff volunteers have been checking on the welfare of around 600 students who are living in the city during the pandemic
Members of staff have been checking on the welfare of around 600 students by calling those living in our halls of residence and in private accommodation in the city during the coronavirus pandemic.

The Welfare Call initiative was led by DCQE and DSAA and supported by over 40 volunteers from other professional service teams such as the Library, Sport & Recreation, UoP Global, Chaplaincy and Careers and Employability.

This can be a challenging time for our students. Some may be unable to go home and be with their families or may be care leavers and lack a support network and so in response, the Welfare Call Project was set up.

The Call aims to offer a friendly voice over the phone to students who are still in Portsmouth and find out what their current needs are so that the University is able to support them. Any concerns or issues are then referred to the relevant support service. Most discussions that have taken place so far were about self-care and online studying, equipment and support.

The majority of students spoken to were the only one in their household as many in halls are in studio flats. Some of these are also self isolating, mostly as a precaution. There are also some students who are living with a vulnerable person or who are struggling with social distancing but the vast majority of students have been able to keep in contact with others, through phone or video calls. Some students had issues with technology or access to food, which they were then able to get support with. 

The Welfare Calls also ran alongside calls to students from personal tutors as well as contact made by Student Finance to care leavers and those estranged from their families.
Michael Dobson, a Student Service Advisor from DSAA MyPort Richmond said: "The recent pandemic has pushed students into unfamiliar territory, presenting them with new challenges and so these calls have allowed us to reach out to students to reassure them and signpost them to services where they can get support. I have organised food parcels for students who were struggling, and other times followed up with academic staff about issues some students faced with the changed approach to learning.

Many of the students we have spoken to have been happy to have someone to talk to about their concerns and worries and grateful for the help they received."

Calls are continuing to be made to students on request as part of ongoing commitment to support students during and post the pandemic.