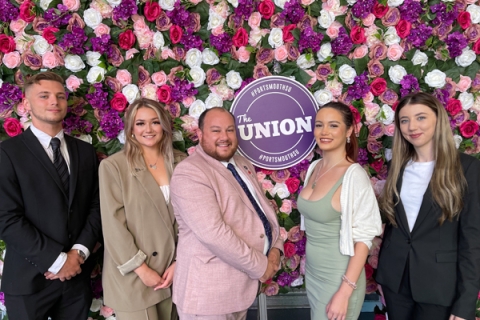 The five officers started in their new roles from Monday 5 July
Five students are elected each year by our student community to meet the needs of their fellow Portsmouth students.
Each officer has their own areas of responsibility and they work throughout their year in office to deliver their manifesto points and provide support to students. 
The new Elected Officer team took office from Monday 5 July. The five officers and a summary of their manifestos is below, and they can be read in full on the UPSU website:
Academic Representation Officer - Sapphire Rance
Sapphire is a third year BA (Hons) Musical Theatre student. She's also been a Course Rep for the last two years and a Faculty Representative for the past year, representing CCI Faculty. 
Manifesto points:
'Be the bridge of communication for students and the university' 

'Ensure ALL students feels safe and protected during their time at the university'

'Improve sustainability at the university'
Democracy and Campaigns Officer - Dominic Owen
Dominic (Dom) is a Second Year International Relations and Politics Student who is undertaking his Officer role as a placement year between his second and third years of study. He's an enthusiastic campaigner and a keen AFL (Aussie Rules Football) player.
Manifesto points:
'Bring back the bar!' - Social interaction is crucial for a wholesome university experience. 

Better Student Housing - Suitable housing is proven to be essential for great university experiences. As a campaigns officer, I will continue campaigning for greater housing standards and greater transparency.

Put Portsmouth on the map' - I will forge new partnerships with other universities globally. Benefits reside in 'study abroad' courses, because of fresh options being available, to suit all students.
Development Officer - Mike Kiddell
Mike is a MEng Innovation Engineering student, currently between his second and third years, who is returning for his second year as Development Officer, having first been elected in March 2020. He will be the only returning elected officer in this year's team. He is also the only Mature Student in the team.
Manifesto Points:
Student Voice - Keep lobbying and working with the university for students' needs! Students are not to blame for Covid.

Out of Covid - Work closely with Groups and Sport and Rec to get activity back. Get Freshers' fayre, Awards, Graduation back, bigger and better.

Student Welfare - Students need more support now than ever before. I want to make sure those services are always available for students
Learning Experience Officer - Jade Underwood
Jade joins us from the second year of her International Relations course. Like Dominic, she is also undertaking her Officer role as a placement year between her second and third years. She has also been an active campaigner, running her own campaign group focussing on the links between mental health and social media. 
Manifesto Points:
 Refine the careers service and implement varying assessments to increase job prospects.

Introduce funding for ALL societies to advocate inclusivity and a society hardship fund to tackle expensive society participation costs.

Decolonise the curriculum by incorporating authors from a variety of ethnic backgrounds into reading lists and continue funding for BAME.
Welfare Officer - Natasha Layley
Natasha is a third year Architecture student who has been heavily involved with the sporting side of University life  where she is an active member of Women's Rugby and Lacrosse. She also spent the last year as Welfare Executive for sports and recreation, where she supported sports societies with the challenges faced throughout the pandemic.
Manifesto Points:
Support students into resuming 'normal life' 

Support resit students and those who may still have to distance learn

Equal encouragement for all students