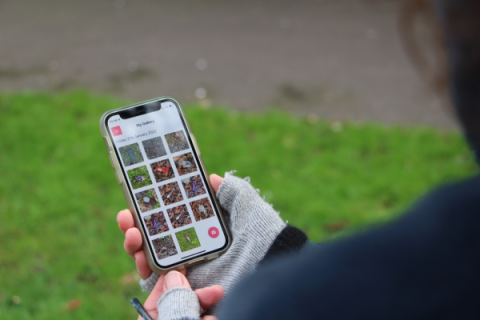 Are you concerned about plastic waste in the environment? Not sure what you can do to make a difference?
Download the University-supported Jetsam app and join our next city wide survey on Friday 4 – Sunday 6 February.
You could even make a team challenge of it and see who can snap the most bits of plastic and contribute the most data to this citizen science project.
Get involved with friends
Last week a small team from the University trialled the app and managed to photograph nearly 100 pieces of plastic in just 15 minutes. The team met in Victoria Park over lunchtime and combined getting some fresh air and exercise with doing something positive for the local environment.
When asked about taking part in the survey, Research Associate, Laura Nieminen said: "I'm here because plastic waste affects pretty much everything. First of all, you've got the aesthetic value where if you have trash lying around, it doesn't look nice to anybody and it makes otherwise beautiful parks look like dump sites. Also, it's the extra hazard of the plastic entering the waterways and oceans and then hindering the normal day-to-day life of the animals."
About the plastic surveys
The Mapping Portsmouth's Plastic (MAPP) project is a world first – a city wide plastic survey, designed to help find solutions to reduce plastic waste in Portsmouth. It's being led by the University's Revolution Plastics team and Jetsam. It's something anyone with a smartphone can get involved with – and it only takes 15 minutes. Jetsam is free and easy to use. You can simply open the app and take a picture of whatever plastic you find when out and about.
It can be anywhere of your choosing – as long as it's part of the city. All you need to do is download the app and take a walk. Any plastic waste you spot, take a picture in the app and it will be automatically uploaded.
All photos carry the exact location of the moment the picture is taken. This will help researchers from the University's Revolution Plastics team form a 'heat map' showing hotspots of plastic waste in the city. It also means the community can see when and where plastic is building up. It's the first stage of tackling the plastic problem in our fabulous city. 
There will be a further three surveys on the first Friday-Sunday of each month until May – so there'll be more chances to get involved and contribute.