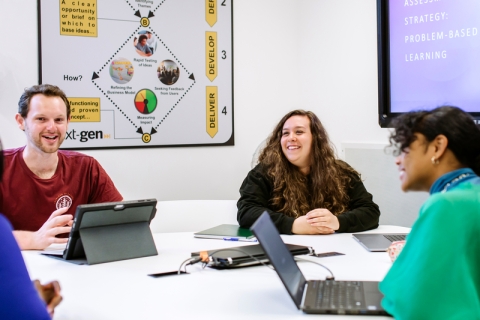 Join The Enterprise Programme and gain the skills, confidence and competencies to help you fulfil your potential
After a successful pilot year The Enterprise Programme is back and aims to help you gain the knowledge and guidance needed to enhance your career, achieve your goals and if you choose to, have the capabilities to eventually become your own boss!
It is completely free to attend and is open to all students, alumni and staff.
 
The programme will provide you with the skills, confidence and competencies to help you become a more enterprising individual that knows how to make things happen.
Whether your goal is to be more resourceful, self-motivated, innovative, creative or disciplined, why not join the Enterprise Programme?
There is also the opportunity to win up to £3,000 for ideas you develop and may want to take forward. 
"The enterprise programme was an opportunity for me to rediscover lost skills, grow my network and make that final push that I needed" Robert Ball, 2022 Participant
Sessions will be practical, engaging and delivered by real-world business owners, in a flexible style to accommodate any other commitments with an option to attend in person or virtually.
The Enterprise Programme starts at the end of January 2023 but you can sign up now!
"To say I'm pleased I took part in the initial Enterprise Programme would be a huge understatement! I initially applied as I was at a point where I wanted to meet and connect with more business owners, and this seemed like the perfect opportunity to connect and learn with a range of founders at the early stages. It was great to tune in weekly and hear from inspiring speakers that gave a little mid-week boost and great action points that I could apply to my own venture." Kimberly Spiers, 2022 Participant
 
The Enterprise Programme focuses on developing enterprise skills rather than starting a business, however, participants who joined with startup ideas were then able to incorporate what they learnt into developing the business and utilise the networks open to them. 
Alexandru Oneata, a UoP graduate and Founder of The Talent Universe said: "The Enterprise Programme offered me and my company the perspective of other business professionals who dealt with similar issues while starting their ventures. I was able to see their thought process when dealing with challenging circumstances and engage with them in a conversation. This ultimately helped me and my team better understand the challenges of setting up and running a business, and to better plan our own strategy going forward."
  
There is something in The Enterprise Programme for everyone. For more information and to register please visit the TEP website. If you have any questions please contact the team at tep@port.ac.uk