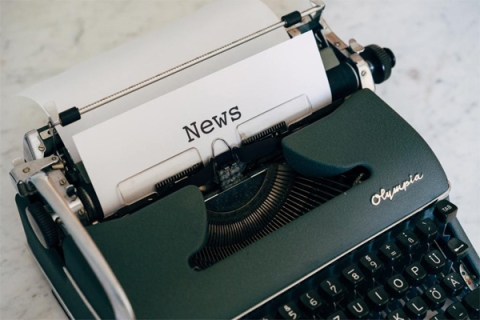 Eleanor O'Donnell, a Creative and Media student tells us about her unique placement opportunity
Creative and Media Writing student Eleanor O'Donnell managed to turn a regular job advert into a placement journalist role with Activist Insight. It was such a success that she continued working for them remotely throughout her final year of study. Read on to find out more about her unique experience.
Thinking that opened new opportunities
Here at Creative Careers we always recommend that students are open-minded in their placement search. Eleanor was very thorough in her approach to finding an opportunity. She'd known for a long time that she wanted to be a journalist, so she decided to apply for 'everything available in the industry'. That meant looking at roles in unfamiliar sectors and even vacancies which weren't technically marked out for undergraduates. This kind of out-of-the-box thinking led Eleanor to apply for a full-time role as a Financial Journalist for online news service, Activist Insight.
They loved her application and Eleanor was able to convince them to offer the role as a placement opportunity in just a few emails. By demonstrating her commitment to the company and discussing the option of working for them part-time during final year, Eleanor found an exciting placement role which previously didn't exist. Not to mention the fact she also secured a potential graduate opportunity for her future self.
Even though she had never previously considered working in Financial Journalism, Eleanor says that the role 'felt like a really good opportunity' which was 'too good to turn down'. Naturally, there was a learning curve to starting work in such a specific and complex area of journalism, but when asked about the experience, Eleanor said that her new team were 'really supportive', 'It was like learning a new language, but I was given lots of training and time to get used to it all. The first few weeks were all centred around learning'. Eleanor had previous, non-journalistic work experience in office environments which she says meant that 'there was no culture shock' when starting the role. In fact, those seemingly unrelated prior jobs helped her feel confident and comfortable in the office setting.
Biggest challenge of going on a placement
When asked about the biggest challenge of going on placement, Eleanor responded with the common concerns of 'moving away' and 'coming to terms with the fact that I wouldn't graduate with a lot of the people I'd spent my university career with'. Eleanor rented a room in Bexleyheath to be within commuting distance of Activist Insight's Dartford office but not too far from her family and friends in Portsmouth. Activist Insight have given Eleanor a great deal of support and flexibility throughout her time with them. This level of support meant that when she started having issues with her landlord mid-year and decided to relocate back to Portsmouth, Eleanor's employers allowed her to shift to working remotely and commute to London only when absolutely necessary.
Working part-time along with final year studies
As she was already working remotely, the transition to part-time when Eleanor returned to university went seamlessly. Eleanor says she was able to find a 'nice balance' between her work and her studies, 'my university work allowed me to be creative while my work with Activist Insight supported me financially and let me continue to use my new-found skill set.'
Positive impact of placement on uni life
She's found that her placement experience has benefitted her final year experience, 'I was quite meticulous before my placement so I wouldn't say it's changed how I worked or the efficiency of my work. But I think it's given me more confidence to speak about what I know. It's also pushed me to take the creative freedom uni gives me and run with it to write about whatever I want before going into a full-time job that will limit what I write and how I write it'
Working part-time has also allowed Eleanor a better social life than she was expecting, as she had the time and money that working a typical student job like bar or shop work wouldn't allow her. Her worry about finishing university without her friends turned out to be unfounded too, as she has spent final year living with friends from a mixture of faculties that decided to do placements too.
Final words to students considering a placement year
She told us that 'it is more worth it than they can imagine. Creative industries are tough to get into, as we all know, and having experience gives you such a competitive edge. A placement can open so many doors for you, whether that's through networking, a job offer afterwards, or purely for the years' experience on your CV'.
Creative Careers
If you want to take a leaf out of Eleanor's book and begin your own broad, enthusiastic placement search,  get in touch with us via email to get started. We can make sure your CV and Cover Letters are polished to perfection, giving you the best chance at securing some excellent relevant work experience.
The portrait shot used in this blog is courtesy of @thisiscurtispitter.