Welcome
You've submitted your application, now explore more of what Portsmouth has to offer
Whether you made it to one of our Applicant Experience days or not, we can still help you make your decision. Take part in the activities below and to discover more of Portsmouth.
Top 10 reasons to choose Portsmouth
Hear our students explain why they love studying here.
Course activities and resources
Join our course teams for various interactive activities, including taster lectures, tours and talks. Find your course below.
Chat to our students
Unfiltered conversations with the people who really know Portsmouth – our current students. Chat to our students Monday – Friday from 8.00am to 6.00pm. Or drop them a message and they'll get back to you.
Student support
As a Portsmouth student, you'll have access to exceptional guidance and support. Read about the support you can get below. You can also message our support teams on Unibuddy if you have questions.
Student Finance Support
Find out how to get information, advice and support to help you manage your money and student loan effectively and keep your finances on track.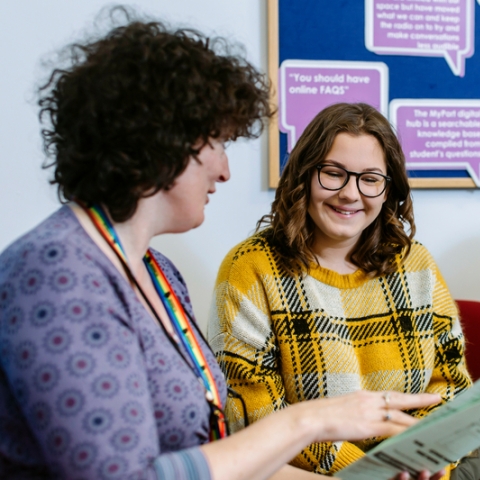 Read more
How well do you know Portsmouth?
Take our quiz to discover more about Portsmouth and see how well you know the city.
My time at the University of Portsmouth has allowed me to grow tremendously. I've opened myself up to a range of opportunities, people and experiences whilst studying here.
The sea was glimmering, sun bounced off beautiful old buildings and there were students everywhere around town. This was the place for me.
"The University is known for its Gold teaching standard. After completing my undergraduate here, I can confirm that the quality of teaching, support and guidance has been beyond my expectations."
Tours – Campus, city and accommodation
Take a walk around the campus
Full University of Portsmouth tour
Photography student, Amy, and Business Information Systems student, Joel, take you on a walking tour of our University campus.
If you can come to Portsmouth for a visit, follow our self-guided tour to explore the city.
Updates:
Between December 2022 and February 2023, services are moving from the Nuffield Centre. Please check our locations and the campus map for the latest information.
The University Nursery will permanently close on Friday 16th December 2022
Amy Welcome to the University of Portsmouth walking campus tour. My name is Amy and I'm a second-year photography student.
Joel My name is Joel. I'm a third-year student studying Business Information Systems. Now, let's follow me.
Joel Here we have three halls. So the first one is Greetham Street, then Margaret Rule and Chaucer House.
Amy And Greetham Street is the really tall yellow one that you can see has a viewing platform of the whole of Portsmouth. It's really nice.
Amy Here is Portsmouth and Southsea train station. It has great transport links around the city and you can get to London in just an hour and a half.
Joel Here we have Commercial Road, known as 'city centre', where we have the high street shops. On my right, we have another halls of residence known as Catherine House. It's one of our largest and newest halls of residence. They also do social activities, during Halloween they do trick or treating.
Amy We're now heading to Park Building. Follow me.
Joel Welcome to Park Building, the home of the Faculty of Humanities and Social Sciences and we have Politics, International Relations and Languages.
Amy You can choose to learn from eight different languages alongside your university degree, such as Mandarin and British sign language, which I take at the moment.
Joel Now, follow me.
Amy Here, we're outside the White Swan Building, which is the home of Drama, Performance and Musical Theatre.
Joel If you study Television and Broadcasting, they provide a green screen studio.
Amy And whilst we're here, this is Rosalind Franklin halls of residence. Anyway, on with the tour.
Amy These two buildings are for the Faculty of Science and Health.
Joel And this is Rosalind Franklin West and if you study health-related degrees, they provide mock operating theatres and radiography suites.
Amy And in St. Michael's, you'll find Biomedical Science degrees and Pharmacy, with state of the art labs.
Joel Continuing from the Faculty of Science and Health, we're at the King Henry Building, where they provide School of Biological Sciences and Psychology.
Amy Part of the Faculty, we also have a Marine Biology degree which is situated in our Eastney campus.
Amy Welcome to Anglesea Building, the home of the Faculty of Technology.
Joel They provide courses such as Mechanical Engineering and Electronic Engineering. We have a School of Law also here.
Amy They have a mock law court situated inside.
Joel Follow us onto the Northern Quarter.
Amy If you continue this way, you'll get to Gunwharf Quays.
Amy Welcome to Northern Quarter.
Joel This is the Dennis Sciama Building. It's the home of the Institution of Cosmology and Gravitation. We also have a hub cafe and they do some amazing hot chocolate.
Amy And just behind us, we have Burnaby Building, which is the home of Earth and Environment Sciences and it also has an Engineering degree.
Joel I'm at Richmond Building at the Faculty of Business and Law. It has the largest lecture theatre and during my first year, I spent most of my time in this lecture theatre.
Amy We also have the Bloomberg Suite, which is the mock stock-exchange facility.
Amy Welcome to Portland Building. It's the home of Civil Engineering and Surveying degrees and it has a large open-access IT suite for all students to use.
Joel Here, we have the Future Technology Centre, one of our newest buildings. At the ground floor, we have the global centre. On the first floor, we have large group presentations where they have large TV screens as well. On the second floor, you have personal computer suites and they have some cosy booths. And on the top floor, they have business networking suites.
Amy Lovely. And onto Lion Gate and Buckingham Building.
Joel We're at Lion Gate, the Department of Mathematics, where they provide Maths Cafe and help you with one-to-one support and group support as well. I've had a previous experience where I've got loads of one-to-one support with my coursework and assignments, and also you can rent out laptops as well.
Amy And here's Buckingham Building, with the Department of Geography and the School of Computing. And they have a forensic computing lab inside.
Joel Follow us to the Milldam Building, the last stop of the Northern Quarter.
Joel We're at the Milldam Building, the School of Area Studies, History, Politics and Literature, and if you study Journalism, there's also a journalism newsroom.
Amy Here, you'll also find the University on-campus nursery, where spaces are primarily reserved for students with children.
Amy Welcome to the University Library. During term time, the library is open 24/7. It is where you'll find the majority of students. There are computer rooms that are bookable for group sessions and there's a large open-access computer suite for all students to use. There are also laptops available for loans for up to 24 hours.
Joel We have the new Ravelin Sports Centre. Once it's finished, you will have a 25-metre swimming lane and climbing walls and ski simulations.
Amy Welcome to Ravelin House, the School of Criminology and Criminal Justice.
Joel The University of Portsmouth has a partnership with Hampshire Constabulary, where they provide placements for students and also graduate jobs. St George's Building, it's also a building where they do Criminology, as well.
Amy And just behind us, we have William Beatty Building, which is the Dental Academy where students practise in professional clinics with phantom heads.
Joel Welcome to the Student Union. They provide services such as advice and support for students.
Amy There are also over 200 student-led societies.
Joel I'm part of the Bollywood Society and we have weekly practises and we perform at cultural events.
Amy And it's also the home of Third Space, which is a large study social area. And there's also the University shop, which sells University hoodies that everyone wants.
Joel Now follow us onto Nuffield Centre.
Amy Nuffield Centre is home to Academic Skills, the University Student Finance Centre, Student Wellbeing and the MyPort Hub.
Joel Also, additional support and disability services, Student Housing and faith services as well.
Tati The Nuffield Centre is also home to the Global Team. They provide support to our international and EU students with everything from arrival programmes, visa advice and extensions. They also offer opportunities to engage with exchanges, study abroad and summer schools for all students of the university.
Amy And right next door, we have the University Surgery. Top-tip advice is to register with a doctor when you get to the University.
Joel Behind me is the Spinnaker Building. It's the heart of sports-related degrees.
Amy And right next door is the Spinnaker Sports Centre, which you can have over 50 classes per week. And there's a large sports hall where we can play a variety of sports, such as badminton.
Joel Now follow us onto Eldon Building.
Joel On my left, we have the University House. On my right-hand side, we have the Careers and Employability Service, they help students with placements, part-time jobs, internships and also graduate jobs and finding volunteering services as well.
Amy Welcome to Eldon Building, it's the Faculty of Creative and Cultural Industries, and it's where my degrees take place. Inside, there's an art shop, CCI TV and the radio station.
Joel On my left, we have another hall of residence. It's known as Trafalgar Halls, it's recently been refurbished. Now follow me to Harry Law and Bateson.
Amy These are the last two halls on our tour. On my right, we have Harry Law and on my left we have Bateson.
Joel Now, let's go back to Guildhall where we started.
Amy And now we're back at the Guildhall, which is the centre of the city, and it's where you'll graduate after your time here at university. If you've got any more questions for us, head to the University of Portsmouth website.
Joel Thanks for joining us.
City Guide
Why Portsmouth?
Portsmouth has fantastic local, independent businesses from art galleries, to bars, restaurants and delicatessens. Hear why local people and students chose and love Portsmouth. Explore more of what Portsmouth has to offer for your life outside study.
Cerys: When I first came to the open day for Portsmouth, I instantly fell in love with it.
Imogen: It's got such a really friendly atmosphere, even though it's a city it's quite a small city, so it feels really welcoming and homely.
Andy: I think Portsmouth is very forward-thinking.
Joanne: It's got a real independent spirit about it.
Antony: With the waterfront, the historic dockyard, a really good mix of nationalities.
Lee-Anne: Half my friends are from Nigeria, other half are from places like Czech Republic, and it's very interesting to meet new people.
Steve: There's lots of cultural events, there's art galleries, there's music venues.
Ben: There's a great restaurant scene and a great nightlife scene as well.
Claire: There's always new things popping up, new restaurants, new art shops, new things.
Gareth: Entertainment activities in terms of lots of bars and restaurants and loads of cool places to eat.
Anthony: And then there's so many shows you've got kite festivals.
Rikki: Food festivals.
Anthony: Big one that really helps the town is Victorious Festival and I think they're on their tenth year next year.
Connie: It is such a really lovely community.
Simon: And I think after you've been here a while, you feel part of the community.
Erin: The mood is just unrivalled. You've got the beach. There's also a nice sense of community.
Megan: The community feel just makes you feel like you're at home, away from home.
Rikki: I think it's got a really good mix of independent businesses.
Luke: There's so many local independent businesses.
Daniel: You can walk everywhere.
Samantha: When the sun is shining, there is nowhere better than Portsmouth.
Holly: You're only ever five/ten minute walk away from the seafront.
Antony: It's a very cosmopolitan city. It's got so much to offer.
Nehanda: Commercial Road, you have the city centre and the hub where it's all lively.
Nathan: Student nightlife is really, really good. Lots of nightclubs. Lots stuff to do.
Nehanda: But then as soon as you come to Southsea it's more like a lazy seaside town like you get to go to the beach.
Samantha: You just have to go down to the beach or the common on a sunny day and everyone's having picnics. It's just beautiful.
Holly: Or you can enjoy the pubs and the clubs or the theatre in the main city centre.
Gareth: I love that kind of vibrancy of the city.
Lee-Anne: The weather is milder than other parts of England, so if you're someone who doesn't really want it to be cold, always, it's perfect here. It will rain, but it's still perfect.
Antony: I think that it's the perfect place to come and study a degree.
Gareth: I love it. I would highly recommend it for anyone.
Eliska: It's a big enough city to not be afraid to express yourself, but it's also small enough to be heard.
Your home away from home
What to expect at the University of Portsmouth
When you stay with us in halls, you get the keys to your own place and open the door to a community of new people.
All our halls are in the centre of Portsmouth, close to our campus. Find out more on our accommodation page.
Need to know more?
Join us in the city to experience life as a student in Portsmouth or if you've got questions, email our team at any time.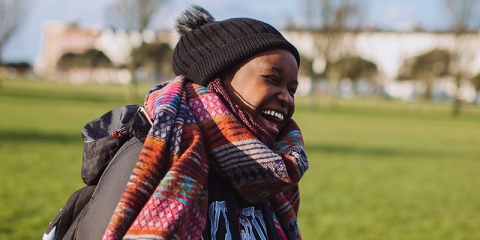 Explore the city at our Open Days
Visit campus and take a closer look at student life in Portsmouth.
Book your place