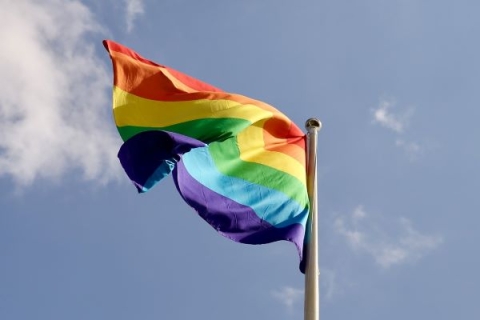 23 February 2022
4 min read
You are invited to attend a series of upcoming events held by the Students' Union (UPSU) and the Faculty of Creative and Cultural Industries (CCI) celebrating the LGBTQ+ community this month.
LGBTQ+ Ball – 25 February 
Join the Union in celebrating inclusivity, culture and the LGBTQ+ community. The Union is hosting their very first LGBTQ+ Ball. The event will feature face painting, photo booth, a performance from the Cuban salsa society and a DJ set from The Fabulous Josh.
Tickets £4
Mister Samo – I exist: Celebrating Trans people through Art – 28 February
Join Samo for an afternoon of hearing more about the exhibition and book I Exist and his journey to creating these works. Samo has found prominence in the UK and across the world through his focus on gender transition and the natural world.
Free event
You can see one of Samo's artworks in the Students' Union building. 
Pride Pledge
Come along and show your solidarity with the LGBTQ+ community by signing the Pride Pledge Foamex Board. There will be an option to anonymously print your hand as part of a progress pride flag. These will then be displayed in the UPSU building. The event has been running as a drop-in in the Students' Union Building from 2.00pm – 4.00pm every weekday of February 2022 as part of LGBTQ+ History Month.