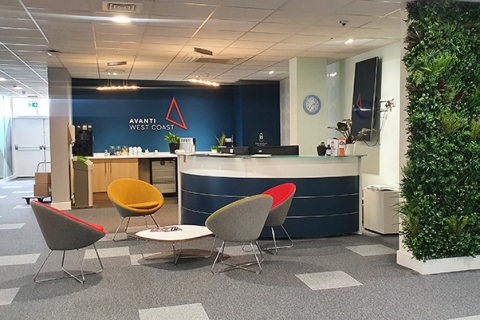 Digital Media student, Julia, talks about working in e-commerce for the train company
How did you find your placement role?
I was subscribed to the LinkedIn weekly notifications, I set up an alert for placements and internships. One day, at the end of June, I received a notification for the E-commerce Intern position and I decided to apply.
How many applications did you make?
I applied to approximately 50 placements during the course of 9 months. It took me a long time to secure one.
How did Creative Careers support you in your placement search?
During the application process, I was able to find plenty of resources and guidance from the Creative Careers team. From the very beginning, they advise me on how to improve my CV and how to write a well-targeted cover letter for each placement application. Moodle was another very useful tool where I could find examples of previous students' CVs as well as tips and more portals to find placements.
The team helped me in other multiple occasions, for example when I was struggling to find a placement, I was able to book time with them and find more vacancies. They kept me motivated to not give up on the search.
Who do you work for?
Avanti West Coast is a train company that began operating at the end of 2019 when took over the Virgin Trains franchise. They are in charge of multiple long-distance routes that cover London to Scotland and connecting the biggest cities in the UK. They are in charge of running the HS2 that is currently on Phase One.
Tell us about your role
My role at the company sits within the E-commerce Team and we work very closely with Customer Relations Management (CRM) and Loyalty, Marketing and Brand. As an E-commerce Intern, I support the wider team with content updates, UX and testing.
Some of the responsibilities I have are monitoring the website's feedback and creating weekly reports analysing the results, as well as, creating new pages from scratch, for example, the blog and the March newsletter.
I always try to follow the guidelines and recommendations from our SEO agency and ensuring that all the content created on the site is responsive and accessible for our users.
How is your placement related to your university degree?
It has given me the opportunity to put into practice the knowledge and skills that I gained during the 1st and 2nd year, for example, it has allowed me to combine UX and Web Development skills when updating and creating content on the website.
What are the benefits?
Being on placement has made it possible for me to apply what I have learnt at university into the workplace. It has improved my confidence and my working standards, at the same time, I have acquired new skills around the tasks that I've been performing. I have been able to meet and work with new people as well as gain relevant industry experience in an important area like rail.
Doing a placement has thought me how to work at my bests standards when delivering my work and to always look for self-improvement and problem-solving. On my return to University, I feel more confident and capable to deal with new projects and working on teams.
Did you have any concerns?
I was worried that with COVID-19 there was going to be fewer opportunities and the same amount of students applying for a placement, It made me keep persevering and looking for new vacancies.
The fact that the majority of companies were offering a remote position, made me doubtful of how the dynamic with a new team would work and how well I would adapt. In the end, all of these doubts and worries eased when I started to work with my team. This experience has taught me that you can deliver high standards of work and be a good team player even when working remotely.
Highlights so far
I have been able to observe how the User Testing on the Booking Engine is done for different devices and how the feedback is later compiled and analysed. When it comes to the implementation phase, which comes at a later stage, it has allowed me to understand how the business makes those decisions and how User Research is used to back up those changes.
Avanti moved from a white-label Booking Engine to what is the current one, created by its own in-house developers. This has been a really big step and a privilege to see up-close, from the design and prototyping phases to its implementation on the current site. That allows us to have more control over the platform and to make changes to enhance the customers' experience.
Any advice for students thinking about doing a placement?
I believe it gives you an opportunity as a student to gain industry experience and to explore what might be a possible career after graduation. It allows you to gain confidence in yourself and to develop new skills that are up to industry standards. You will meet new people and take part in projects that you might never imagine before.
What advice would you give to your fellow students regarding their placement search?
I recommend starting the placement application process quite early, as it can take quite a while to secure one. As happened to me, you are likely to face rejection. But remain determined and stay resilient. In the end, it will be worth it.
Always look for opportunities, maybe in the summer or Easter holidays do a short internship or volunteer. You can gain some experience in an area that interests you and mention it in your application. Doing this can be very valuable as you can show your future employer what skills and experience you have put into practice outside of University.