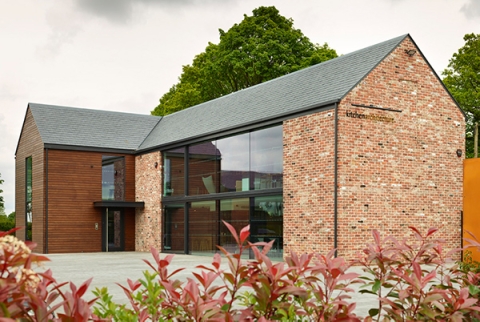 Interior Architecture and Design student, Lily Ward, on her placement experience
Interior Architecture and Design student, Lily Ward, is currently on placement with award-winning bulthaup specialist and luxury home products supplier, Kitchen Architecture. She's had real-world responsibility and even got to travel to Germany for work. Read on to find out more about her brilliant experience.
Tell us a bit about your employer…
I am currently in the final months of my placement with Kitchen Architecture, a family-run business established in 2002 with showrooms in London (Putney), Oxford (Brasenose Farm), and Cheshire (The Colony). Primarily an independent bulthaup retailer, Kitchen Architecture supplies bulthaup (German-made) kitchen furniture to create sociable, timeless living spaces for clients. Kitchen Architecture are also a supplier of other high-end furniture systems and their own brands- SystemKA and Teddy Edwards.
My role within the company has been a 'trainee design and marketing coordinator'. I work closely with my design manager and the marketing manager, alongside the rest of the team. I carried out this role in the Wilmslow showroom in Cheshire, The Colony – where multiple organisations also work such as architects, plastic surgeons and designers, orientated by a business members club. Although primarily working in this showroom, I also worked closely with the team in the other showrooms and visited Putney and Oxford often, for training or events.
Can you tell us more about your role?
My main role as design coordinator involved using AutoCAD and producing floor plans, elevations and sections for presentation drawings. I also produced renders using Winner to show clients. Once a design was finalised, I created P&E drawings and fitting packs for all the teams on site which involved regularly being in contact with architects, interior designers and builders. I also had responsibilities for quoting and ordering materials and furniture for clients and large projects. Site visits were also a regular activity – seeing a site from initially measuring up spaces all the way to deliveries, to installation to the handover. Eventually, site visits involved working alongside the quantity surveyor checking over technical elements on the drawings I had worked on. I found site visits particularly exciting on my placement as I was able to see the multiple designs I'd been working on becoming a reality.
What skills have you developed?
I had a basic knowledge of the Adobe Suite when I began my placement. I really developed these skills through my marketing responsibilities which required me to create artwork and videos for campaigns and updates on all social media platforms and the website. I learnt a lot about marketing in terms of branding, analytics and identity, being in contact with press, journalists and marketing & digital teams. I also got heavily involved in discussing ideas for a new company identity with the prospect of a new design centre opening. This was one of the most rewarding parts of my placement – being involved through marketing and organising events, in the opening of Kitchen Architecture's new design centre Brasenose Farm.
Have you had the opportunity to undertake any training?
I attended design-based training as well as appliance training with Siemens & Miele, and I also took part in an online Gaggenau training seminar. This training gave me knowledge of the technology and advancements of the appliances we sold. It was also an opportunity to network with other people, including project managers, designers and sales teams in the industry. I also went to Munich, Germany, to take part in training with bulthaup. During this training, I visited showrooms and the bulthaup factory. I got to learn about the history, philosophy and key principles of the brand, as well as meet incredible people from around the world. It was an invaluable experience. I also have training coming up with Bora, as well as a week of fitting training which hopefully will still go ahead.
What have you gained by doing a placement?
My placement experience has given me a great deal of knowledge about brands and designers. I've been lucky enough to be part of an amazing company, learning from a great team who have given me real responsibility and who I plan to stay in contact with. Having been involved in both marketing and design, I've learnt a lot about different aspects of the industry as well as enhanced my ability to manage a workload effectively. I've gained a lot of confidence in myself as my skills have developed, but also as I successfully moved to a new city and immersed myself in a new experience.
What would you say to someone considering a placement year?
My advice to students considering a placement would be to not give up on the process of trying to find one. Be confident in your ability and be patient as eventually, something will come up that will be perfect for you! I would also encourage students not to limit themselves by location or be put off by particular elements of any job role offered to them. Push yourself and try new things. You'll learn and gain a lot more from a role that challenges you.
Have your say
If you're one of our students in the Faculty of Creative and Cultural Industries and have a suggestion for something you'd like us to write about, or you'd like to contribute your own story, please let us know by emailing creative-careers@port.ac.uk.