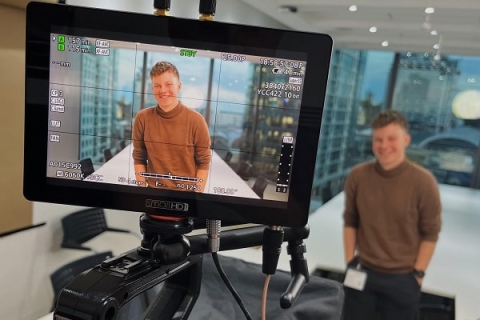 Darek can't stress enough how vital it is to involve oneself in external opportunities and the importance of believing in yourself.
How did you find your placement role?
I found my placement on the Creative Careers vacancy database. The job was advertised in May 2021, and I got accepted two months later after having attended an interview and a trial day.
How many applications did you make?
I believe I made around 10 applications. I was shortlisted for a few of them, some companies never reached back to me, and I also received a few rejections. I'm incredibly happy now I didn't give up on pursuing further applications, considering how bad each rejection felt. If you're a student looking for a placement, remember, you are good enough. The right role for you will eventually come.
How did Creative Careers support you in your placement search?
First and foremost, thanks to the Creative Careers I discovered the vacancy database, where I found many opportunities to undertake throughout my studies. Not only placements but also short internships, insights, training schemes, and volunteering. It made the whole process of searching for the best role for me easier, especially since many of those opportunities were exclusively advertised for the University of Portsmouth students. Also, I signed up for weekly vacancy emails, which helped me keep track of new roles coming up.
CV and covering letter check
Resources provided on Moodle have been very helpful in learning how to structure both CV and cover letter for placement applications. This has given me plenty of advice on what I should include, drafts of which I've been sending later for checks to Creative Careers. They also have been running regular sessions on interview techniques, application tips, and much more in order to help students prepare the best applications possible.
Company
BECG is a sector specialist communications consultancy for the built environment. They provide expertise and consulting in public affairs, planning communications, public relations, and marketing. I'm part of the Creative Studio, being a video team member along with design and digital teams.
Placement role
I'm a Video Production Intern and the role allows me to gather experience in an integrated agency and work on design, digital, and video projects spanning a range of sectors and outputs such as marketing, PR, and more. This placement offers me practical training on location at live shoots and productions as well as a post-production skill set essential to the craft. My responsibilities include but are not limited to runner duties on live shoots, camera operation, behind-the-scenes content shooting and photography, podcasts, editing, and motion design. It didn't take long to feel like a part of the team and be trusted with my creative expertise.
How is your placement related to your university degree?
As a Television and Broadcasting student, the degree has given me a solid foundation to undertake my internship. The knowledge and skills I gained throughout my time at university, both in classes and with my independent studies allowed me to create a strong and outstanding application.
What are the benefits of being on a placement?
I can't stress enough how vital it is to involve oneself in external opportunities throughout the studies, whether it is placement, internship, or other schemes. It will not only give you valuable experience before you even finish your degree, but you will also come back to your final year at university with a well-developed skill set, be more confident in your craft, boost your employability, get financially independent, connect with many inspiring people and expand your network. Moreover, you get the time to discover your highest excitement, find out what career path you want to pursue, and most importantly enjoy yourself working within the industry.
What's been the biggest highlight so far?
Quick turnaround of projects is a great thrill. Being involved in jobs for clients, both internal and external, whether it's a shoot, video editing, or animation, and working in a fast-paced environment gives me such a feeling of fulfilment. I enjoy being constantly challenged, which triggers my inner excitement and proves to me what I'm capable of. I get to develop my skills working on real-life projects with the support and advice of senior video producers to ensure my work is at its best. I regularly receive feedback on my progress and engagement, which helps me grow.
What concerns did you have before going on placement?
The biggest concern I had was whether I'm going to measure up to the team's skill set requirements. My impostor syndrome was telling me I'm not good enough. What helped was telling myself the employers have selected me out of all the candidates, so they must be confident with my expertise. Luckily, a few weeks in I was reassured by my team they are very impressed with my knowledge and professionalism and are happy for me to join them. The moral of the story is: believe in yourself.
What new skills have you developed? What training have you done?
I got to become more confident on live shoots, including operating Canon C300 and Sony A7, miking contributors up, setting lighting on set, and guiding contributors. I've learned another video editing software and new editing techniques, experienced various animation forms creation, and most importantly accustomed myself to creative agency's workflow.
What are your plans for your future career?
After four months on my placement and being involved in multiple projects, I can see clearly what brings me the most joy and what department of video production I would like to work in when I graduate. I plan to get Premiere Pro and After Effects certificates in my final year at university as well as sign up for more advanced training regarding post-production techniques provided by the university and continue with other external opportunities. Once I graduate I will either continue my education doing a master's degree or any other courses, or find a graduate scheme job – it is still ahead of me to make the final decision.