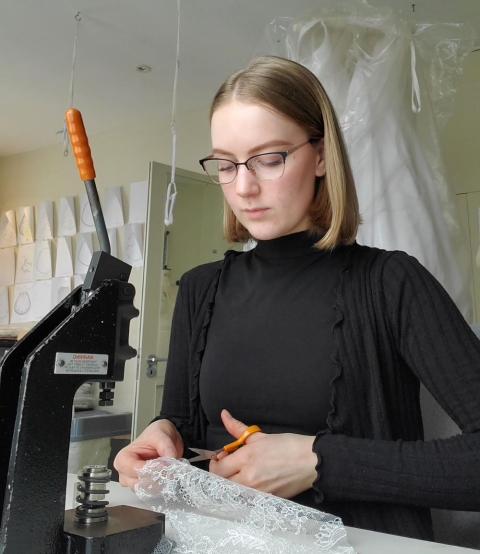 Find out about Ella Vieira BA ( Hons) Fashion and Textile Design student doing an Internship at Phillipa Lepley
Where are you currently on placement?
In January, I started my second placement at Phillipa Lepley and it has been a wonderful experience so far. Phillipa Lepley is a luxury wedding dress designer based in South Kensington, London. The dresses are all made in-house by some of the most talented seamstresses around which I am in awe of every day. Clients arrive at Phillipa Lepley to find their perfect wedding dress that is tailored to their figure and designed specifically for them, having bespoke motifs added to their embroideries.
What is you role?
I predominantly work alongside the Head of Embellishment who sets different tasks for me each day, but I also help any department around the studio and shop. Throughout my time so far, I have drawn bespoke motifs for clients and samples, hand sewed sequins to one the dresses in their newest collection, hand-made lace cover buttons, trimmed lace veils, digitised embroidery on Adobe Illustrator and sewn bespoke embellishments on a clients dress.
How has the placement experience contributed to develop you personally ?
Some days, errands need to be run and that usually means going across London. London can be a very intimidating place, especially when you are alone and often carrying highly expensive materials. However, I have grown to love being sent out, becoming so confident using the underground, which has led to me to explore London on my own multiple times throughout my placement year. I have been able to show employers that I am responsible and trustworthy, something I am very proud of.
Highlights so far?
A highlight from this placement has been working on their latest photoshoot. It was a fantastic insight into how a professional photoshoot is carried out and was in awe of everything the whole day
What would you say to any student considering doing a placement

?
Deciding to do a placement year is a great decision as you get to further your skills in whatever field you like – for example I looked for placements that would enhance my hand sewing and understanding of couture garments – gain vision into the fashion industry and the
chance meet incredible new people.
How would you define your placement year experience? 
It has been a year of successes, failures, life lessons and personal growth. I encourage you to be curious about everything and ask ANY question that pops into your mind, however silly you may think it is. It has been a year of good days with some bad days but most importantly it is a year to learn more about yourself and a chance to gain experience in the real world before you graduate.