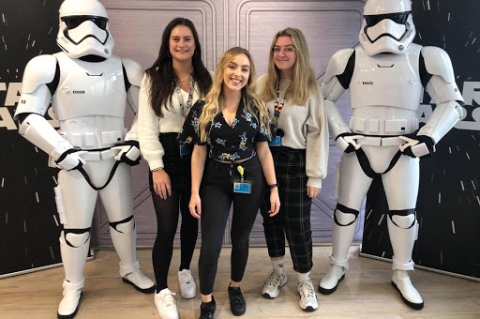 Media Studies student, Jess Woodford, on her placement experience
Media Studies student, Jess Woodford, is currently undertaking a highly sought-after Asset Management placement with Walt Disney. She's having a brilliant time. Read on to find out more…
Tell us a bit about Disney…
The Walt Disney Company is one of the largest global media, entertainment and communications businesses in the world and as such doesn't really need an introduction! I'm based within Disney Channels (Disney Junior, Disney Channel and Disney XD), which means that I work with material from TV shows, such as Raven's Home, and Disney Channel Original Movies (DCOMs), such as Descendants 3. Recently The Walt Disney Company acquired Fox, so now our channels include National Geographic and Fox too.
What is your role?
I am a part of the Asset Management team for Disney Channels EMEA (Europe, Middle East and Africa), closely working with the regional marketing operations team. We oversee the distribution and regional communications of marketing collateral for the EMEA channel business, into our Disney Channels global asset management system, MICK-E.
Coming into the job, I had no idea what to expect. I'd never heard of Asset Management before! Since then, I now know that the tasks I am given on a daily basis can differ – one day I could be quality checking and uploading a promo for Disney Junior's UK YouTube Channel, and the next I could be hunting down some character art for a Disney Channel show for somebody in Italy or Israel. While there are a lot of admin-based tasks, there are also so many other aspects of the role that I wasn't anticipating. For one, I didn't think I'd be trusted with so much responsibility while still being an intern. But this means the work I carry out actually gets used within the company which is great.
What have you learnt so far?
One of the main things I've learnt while on placement year is the reality of the world of work. Not only has the internship given me a sense of the office-life routine, it's taught me some valuable personal skills too, unlike what you experience as a student. In short, it's given me a taste of life after Uni, which – while terrifying – is really important. Other than key skills like time management and adaptability, the role has also given me the opportunity to work with software such as Adobe Premier and various other systems within the company. My skills with these will be transferrable once returning to University and after I graduate.
What have been your highlights so far?
There are so many things I could write about during my time working for Disney – a few that particularly stand out are:
"School's Out!" Toy Story 4 Day. Quite early into the internship, I had the opportunity to invite some guests to visit the Hammersmith office where an event was held for employee's family and friends to watch Toy Story 4 and engage with various themed activities around the date of the movie release.
The Lion King (West-End). Recently, a group of other interns and I were given free tickets to see The Lion King on the West End at an exclusive Red-Carpet viewing event celebrating 20 years of the theatre performance.
Disney Junior Halloween Party Event: As I work within Disney Channels, I was given the opportunity to volunteer at a children's Halloween event themed around various DJ characters such as Vampirina and PJ Masks in partnership with Sky Backstage at the O2 Arena.
Some other highlights include volunteering at a National Geographic Okavango VR Event, attending a Friends of Snapchat pop-up, and attending a talk lead by National Geographic explorer, Paul Rose.
Other than these events, as an employee for Disney, you get the opportunity to see films in the in-office cinema as they're released. So far, I've been to screenings of The Lion King, I Lost My Body, Le Mans '66, and a Frozen 2 friends & family screening in Covent Garden.
What would you say to a student considering a placement year?
Quite simply: do it! Not only does having an internship on your CV make you stand out from the crowd of graduates, but it'll give you access to some incredible opportunities that you otherwise might never experience. And, if it wasn't for my placement year, I might not have had the chance to work for a company like Disney – and if nothing else, that's a pretty amazing accomplishment to have done before I've even graduated from University.
Like the sound of Jess's Experience? It could be yours too!
Walt Disney is currently advertising a number of Placement Year opportunities, including the Asset management role Jess currently holds.