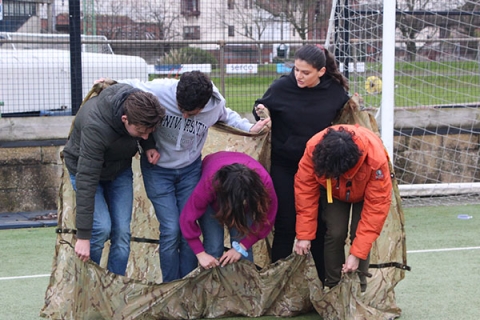 Army officers tested out students' practical leadership skills as part of their Business and Management course at the University of Portsmouth. 
The exercise gives students the chance to put into practice the leadership techniques they've learned in the classroom - and get feedback on how they can improve.
Mapping routes through a minefield, manoeuvring a team through a giant spider's web and other puzzle-solving exercises were among the challenges set by officers and cadets from Thunderer Squadron (The Defence Technical Undergraduate Scheme) at HMS Temeraire.
Creating leadership opportunities for students
Each student had the opportunity to take on the role of leader to steer their team through a tricky task, which needed communication, coordination, team building and problem-solving skills. Similar exercises are often used by the Armed Forces for training and selection. Afterwards, the supervising officer for the task gave each student feedback on their performance, and pointers for improving their leadership skills for the future. 
The Army team running the exercises are themselves part of an in-service degree training scheme called the Defence Technical Undergraduate Scheme. Officer cadets can study a technical degree while training in the military. This year the activities were organised by Capt Gavin Carmichael and Capt Andrew Swaffield, who are studying Mechanical Engineering at the University.
Exercises to test leadership skills
Carmen Kaiser, a student in the Faculty, said: "I've learned to think through the whole task - what's my goal, and how can I use advice from others? In the end we did it together as a team."
Andrew Stewart, Senior Teaching Fellow in the Faculty of Business and Law and the University representative on the Military Education Committee said: "When one student told me it was her first opportunity to lead a team it made it all worthwhile. I was really impressed as all the students participated with enthusiasm and enjoyed themselves. We hope it gives students the feedback and confidence to lead new projects or tasks in their future business career."