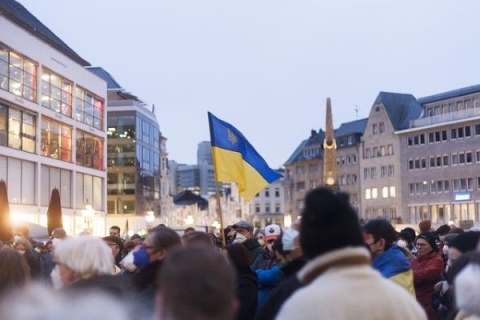 The Global Office is supporting an initiative to collect donations of essential items for the people of Ukraine.
What to donate
Please donate necessities like:

Hygiene products such as toothpaste, toothbrushes, hairbrushes, nappies (children and adult sizes), sanitary pads, paper towels, disinfectants, rubbing alcohol, and disposable and reusable masks.

Food like instant meals, dried fruit, formula milk, nuts, canned food, cereals, and reusable plates, cups and cutlery.

Other items include power generators, thermal blankets, sleeping bags, foam camping mats, medical dressings, painkillers, first aid kits, dog and cat food.

Please don't donate clothes at this time as they are not currently needed. If you have suitable items, please bring them along to the reception of the Global Office in the Nuffield Centre. This is a rolling donation, with items collected during the week sent out for sorting every Friday. 

First aid and medicines will go to the Ukrainian Embassy in London, from where they will be sent straight to where they're needed. All remaining donations will be prepared and sent to the Polish border for the refugees arriving from Ukraine.
Other ways to help - consider a monetary donation
One of the best ways to help is by donating cash through trusted charities and aid organisations. Cash can be transferred quickly to where it is needed and individuals and aid organisations can use it for what they need. Charities will have the experience needed to respond to disasters and are well-positioned to reach victims on the ground.

As well as donating to a targeted Ukraine appeal, such as the DEC Ukraine Humanitarian Appeal, you could also consider making a general donation.

Médecins Sans Frontières (MSF) medical teams are currently on the ground working to deliver emergency medical aid to people still in Ukraine and have donated their existing relevant medical stock to hospitals in Ukraine. 

However, MSF are asking people to consider giving an unrestricted donation which will give their teams across the world the valuable flexibility to respond as needs arise. Your donation could help people in Ukraine, but it could equally support those in ongoing areas of conflict and crisis such as Afghanistan, Syria, Yemen and the Democratic Republic of the Congo which have seen sustained turmoil for years. The MSF website sets out the impact of your donation and how they spend your money.

If you do decide to donate to a charity, please make sure to check the charity's name and registration number to ensure your money is safe and being used effectively.