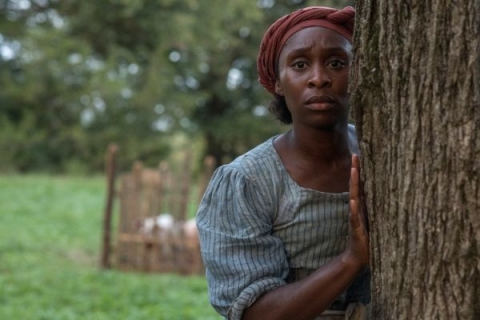 A series of films, online talks and more mark Black History Month this October
28 September 2020
7 min read
Every October, Black History Month (BHM) aims to promote knowledge of black history, culture and heritage, and highlight the positive black contributions made to British society.
It is an opportunity for us all to give some time to exploring and expanding our own knowledge of black history, and the often hidden contributions made.
In support of BHM, the University, in conjunction with our Multicultural Staff Network, the Students' Union and Portsmouth Film Society, will be supporting various activities throughout October – Covid-safe and virtual.
Chris Chang, the University's Pro Vice-Chancellor Global Engagement and Education Partnerships, and Race Equality Charter Champion, said: "The University is committed as an organisation to tackling race inequality for both our students and staff through, for example, our work within the Race Equality Charter and Student Access and Participation Plan. 
"Black History Month is an important and timely reminder to encourage us all, as individuals, to take time to explore, challenge and broaden our understanding of history, to help us appreciate the impact of black history and the part it has played in shaping the world and country we live in today. As the Race Equality Champion, I encourage everyone to participate in local and national events or commit to exploring resources and books that highlight often hidden experiences and history."
Free films in Portsmouth Guildhall
Portsmouth Film Society will show two films and a documentary at Portsmouth Guildhall as part of the BHM Film Festival 2020. They're free for staff and students with current Covid safety measures in place including:
Face coverings required for the duration of time at the Guildhall
Temperature checks on arrival. Anyone with a temperature above 38 degrees or are showing Covid-19 symptoms will not be allowed entry
Audience details will be collected for track and trace on arrival
One way system, hand sanitiser stations on entrances, and distanced queueing system for toilets 
Please book via Portsmouth Film Society and choose the 'Free Uni Student & Staff Ticket'.
Sunday 11 October, 7.00pm – Harriet
Based on the thrilling and inspirational life of an iconic American freedom fighter, 'Harriet' tells the extraordinary tale of Harriet Tubman's escape from slavery and transformation into one of America's greatest heroes.
Saturday 17 October, 7.00pm – Queen and Slim
Slim and Queen's first date takes an unexpected turn when a policeman pulls them over for a minor traffic violation. When the situation escalates, Slim takes the officer's gun and shoots him in self-defence. Now labelled cop killers in the media, Slim and Queen feel that they have no choice but to go on the run and evade the law.
Sunday 25 October, 5.00pm – White Riot
Rock Against Racism was formed in 1976, prompted by Eric Clapton. It blends fresh interviews with archive footage to recreate a hostile environment of anti-immigrant hysteria and National Front marches. An exploration of how punk influenced politics in late-1970s Britain when a group of artists united to take on the National Front.
University Staff race equality resources and network
Staff will be able to demonstrate proactive support for race equality by joining the Race Equality Supporters Network Community, open to all staff with @port.ac.uk email accounts. This community will provide a space for all to share and exchange resources and information, engage and be kept up to date as part of our race equality journey. We will also be launching the Race Equality webpages, an information and resource portal curated by the Multicultural Staff Network and Equality Team.
Why should Black History matter to everyone? – online session
Professor David Andress, Professor of Modern History, in the Faculty of Humanities and Social Sciences, will be delivering an online recorded session: "Why should Black History matter to everyone? What is a middle-aged white bloke doing giving a talk in Black History Month?"
The discussion will be followed up with a virtual discussion reflecting on David's presentation, facilitated by the Multicultural Staff Network.
Students' Union Events
The Students' Union are also planning online events, open to both staff and students, that will focus on the themes of history, current issues, campaigning and celebration (e.g. of culture).
Friday 9 October, 7.00pm
Black history IS British history: Race, Empire and multi-racial Britain (online event)
The history of Britain has always included the histories of black people, though this hasn't always been acknowledged or taught. This talk outlines some of the more current historical debates about the presence of black people in Britain across thousands of years. It will explore how ideas of race and racial hierarchies came to be, and how they interacted with the British Empire and the trans-Antlantic slave trade. It will also examine how the legacies of these ideas have shaped twentieth century Britain and continue to affect our society.
Monday 12 October, 6.00pm
The Union Presents: Sherria Hoskins on eye opening discussions (online event)
Join us as we host a virtual talk with University of Portsmouth lecturer, Sherria Hoskins and ex UAL Changing Mindsets Project Assistant, Joel. They will be delivering a 'changing mindsets' session which will create discussions about being anti-racist.
Monday 19 October, 7.00pm
The Union Presents: Temi Mwale on Police Brutality and the 4Front Project (online event)
Temi Mwale is a racial justice campaigner and the Founding Director of The 4Front Project, a member-led youth organisation empowering young people and communities to fight for justice, peace and freedom. She focuses on fighting against institutional racism and is passionate about working towards a world where we use a radically different approach to resolving conflict within society.
ResLife Digital Book
The University's ResLife Team are putting together a digital BHM Project Book, featuring the following topics:
Black Lives Matter Movement 
Cultural Recipes
How students living in the UK are impacted
Input from societies at the University, such as the Afro Fusion Society and Afro-Caribbean Society (ACS)
Bios including the experiences of staff and alumni.
Other events
If you already have virtual or Covid-safe Black History Month events planned, or would like to put on an event please contact equality@port.ac.uk or maricar.jagger@port.ac.uk. Staff can also find details of our wider race equality work on our intranet.
Books exploring UK Black History
Black and British – A forgotten History – David Olusoga
Black Poppies-Britain's Black Community and the Great War – Stephen Bourne
The Oxford Companion to Black British History – David Dabydeen
Under Fire – Black Britain In Wartime – Stephen Bourne
Homecoming: Voices of the Windrush Generation – Colin Grant
100 Great Black Britons – Patrick Vernon
Black British History: New Perspectives from Roman Times to Present Day (Blackness in Britain) – Hakim Adi