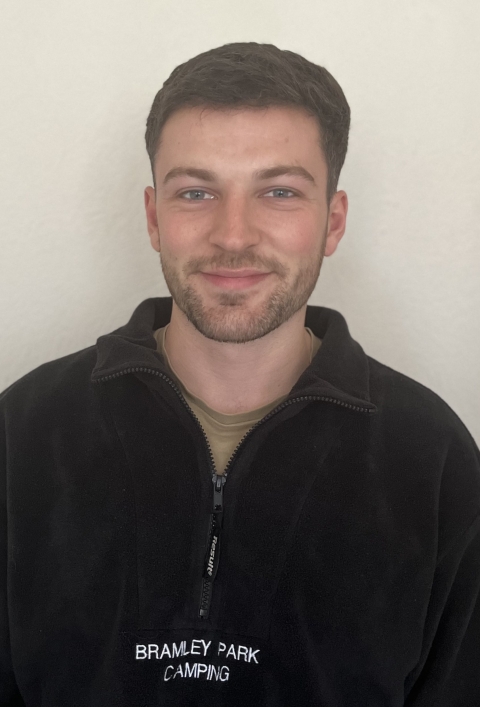 Harry Landells, a recent UoP graduate, has gone on to found his own camping business - read his story here!
Harry Landells, a UoP Economics and Management graduate, is one of the co-founders of Bramley Park Camping, which offers camping pitches and luxury glamping accommodation in the heart of the beautiful East Sussex countryside. 
Harry was inspired to start Bramley Park Camping due to his passion for the outdoors and travel, and his adventures camping throughout Europe, Asia and Australia. These lived experiences meant that Harry had strong ideas of the kind of campsite that he wanted to create; these, coupled with the rise in the popularity of glamping and domestic holidays due to the pandemic, meant that he and his business partner had both the ideas and the perfect opportunity to make their plans a reality. 
After hearing about the Student StartUp team from one of his friends during his final year of study, he was able to access support from the team to help get the idea off the ground. This included details of Santander funding, which Harry and his business partner successfully applied and pitched for on two occasions. As well as the benefits of securing the funding, Harry found the pitching stage very useful in terms of increasing his confidence, and to check that his business idea 'had legs'.
Both of the Santander funding awards had a huge impact on the business and were key to its success. The initial funding secured went towards upgrading the interior of the glamping accommodation - which made them stand out in the local market. The second round of funding meant that they could invest in new toilet and shower blocks, which helped to improve the customer experience. This aided their growth as these facilities meant they were able to stand out from other competitors in their area, and promote these to new and existing customers.
"Since running Bramley Park Camping I would say I have definitely developed as a person…my confidence has certainly grown as a result of overcoming the challenges that running a business brings."
It's fair to say that it has been an 'in(tents)' couple of years for Harry - there have now been two busy holiday seasons at Bramley Park and there have been over 10,000 happy campers from all over the world come to stay. The campsite has been featured in several national publications, and they were one of the first campsites in the UK to partner with Deliveroo to offer takeaway delivery to their guests.  And it doesn't stop there - big plans coming up for Bramley Park include a further renovation of the facilities and catering area, and the introduction of an onsite and online shop selling camping equipment and clothing.
"My top tip for someone starting their own business would be to really look at the industry you're starting a business in, research what the companies at the top are doing and work out how you can do it as good/better/different."
If you would like to find out more about how the Student StartUp team can support you with starting your own business, or for information on the Santander funding streams available, then please visit their website here. You can also contact them via email at studentstartup@port.ac.uk