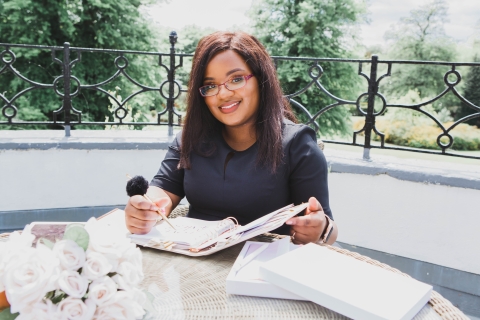 Read on for Minnie's story about setting up her own fashion line
Minnie Murope, a UoP Fashion and Textiles graduate, is the founder of Di'Myo, a business that designs and creates luxury kimonos and abayas. 
Minnie was inspired to start Di'Myo by how the abaya makes the female figure look elegant and dignified, and decided to create her own version that flattered the figure - but with a twist!
After being referred to the Student StartUp team via a lecturer, Minnie applied and successfully pitched for Santander funding. With this money, she was able to purchase unique fabrics for her designs, which got her noticed by major retailer John Lewis. Excitingly, she is now in talks with them to have a pop up shop sometime this year. 
"Starting a business has [changed my personality]...I was once shy but the belief the StartUp team has in me boosted my confidence and now I can make decisions without doubting myself."
Di'Myo is going from strength to strength - as well as the John Lewis pop up, Minnie's designs have also been featured in a music video from African artist Charlie Kay. She also has plans to expand her fashion designs into home decor, and has started to produce luxury bespoke candles.
Minnie's top tip for anyone thinking of starting their own business is that regardless of how crowded the field may be, it is important to believe in your brand and remember that there's always room for you.
If you would like to find out more about how the Student StartUp team can support you with starting your own business, or for information on the Santander funding streams available, then please visit their website here. You can also contact them via email at studentstartup@port.ac.uk